On the Front Lines of Coronavirus
A day in the life of a Seattle Prep student during quarantine probably looks something like this: sleep in, complete their homework and engage in live classes, watch Netflix, play video games, and hang out with their families. For students and teenagers, the Coronavirus has meant a massive halt in their lives: not going to school, not being able to see friends, not having prom or spring sports. For doctors and other medical professionals, this pandemic has meant only increased responsibility and longer hours in the hospital. Doctors can be considered the most "essential" of all workers now. Working tirelessly and selflessly to combat this unprecedented emergency, the field of medicine and the lives of doctors will be inevitably changed forever.
Dr. Doug Morgan is an anesthesiologist who practices at Swedish Hospitals. Dayna Morgan NP is a nurse practitioner who works at Swedish Surgical Specialists First Hill. They offer Seattle Prep students a glimpse into their lives during this pandemic.
Dayna Morgan explained what her typical day looks like: "My job typically starts with me going to resident rounds. This where the resident presents to the attending physician. Then we split up the patient needs and start walking around the hospital seeing patients. We meet with families and the patient to discuss the plans."
Dr. Morgan described that the "biggest change for me is the concern for my partners' and employees' safety. We were always worried about the patient safety when undergoing an anesthetic and surgery, but as the anesthesiologist, I never felt in danger or concerned for my own wellbeing."
He articulated that the risk of infection from a Coronavirus patient is highest during ventilation or intubation. Due to the lack of testing availability and the possibility of asymptomatic carriers, doctors must act as if every patient could have the virus. Doctors must use Personal Protective Equipment (PPE), which includes special masks or hoods to filter their breathing, face shields to prevent droplets in their eyes or nose, full gowns and double pairs of gloves.
Dr. Morgan elaborated on what a surgery would look like for a patient who has tested positive for Coronavirus. The doctors would do their "procedures in special negative pressure rooms with a separate team to help ensure safety."
One of the challenges doctors are facing now is balancing the "risk of not doing a surgery and anesthetic versus bringing them to the hospital and Operating Room and exposing them to additional people and risk".
For patients who are elderly, have trouble working their phones to call a doctor, or are worried about going into the clinic, Dayna Morgan has been taking "house calls, visiting the patients at their home". She has changed their feeding tubes, removed stitches, or changed a wound.
When asked how they thought their job would change after the pandemic, Dayna said "we have learned that not every patient we operate on needs to come into the clinic after surgery". From now on, doctors can rely more on facetime and phone calls for minor check ins.
Inevitably, this pandemic has taught people how connected the world is. Doug stated that "we are in for several months and maybe years of heightened awareness around patient and provider safety. Our world will be more connected and more attention with be paid to the plight of others in far off regions."
While the numbers show that younger people are not getting as sick if infected, it is important for high schoolers to realize the impact their actions have on the greater community. Dr. Morgan spoke directly to teenagers: "This will pass, and we will all be okay, so as the future decision-makers and leaders of our communities, educate yourselves, believe in science, math, research, community, family, friends, goodness, kindness, and personal responsibility."
About the Writer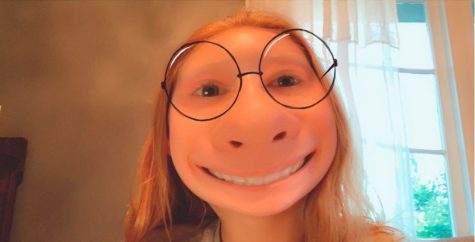 Abby Allen, Staff Writer
My name is Abby Allen, and I am a senior. It is my second year being on the Prep Panther journalism team, and I couldn't be more excited! I pride myself...