Isolated but Not Alone
Seattle Prep Finds the Silver Lining Beneath the Coronavirus
"Schools Shut Down," "Stock Market Falling," "US Climbs to the Top with the Most Cases in the World." These and others are the headlines that have become far too common in these past few weeks, bringing despair and loneliness to communities. In the uncertain time of the Coronavirus pandemic, people are questioning whether it is possible to be positive. Should they feel guilty for even trying to find the bright side in everything? However, in a time like this, it is important to know what support one can give and receive from others.
It is clear that the Coronavirus has had a big impact on the global economy and the stock market. Junior Oliver Lane stressed the importance of people understanding what impact the Coronavirus has on each of us. Now is a great time for young people to learn how buying items and spending money connects to global markets. Lane '21 said, "The coronavirus is showing people how interconnected the global economy is."
This interconnectedness is seen not only in the global economy, but also through internet videos and articles. People all over the globe are showing support for one another. This can be seen in videos like the one above with people are sharing of their communities singing and playing music to remain supportive during this time of crisis and express unity.
Another way that students at Prep have found a positive outlook during this time is through connecting with their families. Jessica McDowall '23, who has three siblings is enjoying the extra family time. She said, "We keep finding fun things to do as a family every night, like watch an old movie while eating popcorn…Family bonding at the end of the day helps me have something structured to return to and I look forward to it every day."
While this forced time at home may seem like too much for her and her siblings, McDowall said, "I like how we can all respect each other's space and also bond as a family."
Prep students are also taking advantage of the extra time with siblings who have come home from college. Gracyn Brunette '21 had two siblings return home from college and has been grateful for the added entertainment that her siblings bring during social distancing. She said, "Me and my siblings have been going on runs together, playing family games, and making a lot of Tik Toks together."
This support for one another, does not stop at the global or family level, it can be seen in the Prep community. Seattle Prep's counselors and faculty are very adamant about expressing the idea that though the students, faculty, and staff may be apart physically, no one is alone. Fr. Rallanka expressed the importance of being grateful for teachers who are working hard to make the transition to Digital Learning Days smooth in order to ensure students continue to receive a quality education. Counselors are also open to receiving calls from students to discuss any anxiety that the Coronavirus may bring. In addition, the Community Ministry team has been sending out daily prayer videos to the Prep community. The list goes on as to how the Seattle Prep community is providing support.
Rallanka also provided insight into how Seattle Prep students can support others during this time. For example, he said students can be helpful towards their family through doing chores or being there for friends and community. Though we cannot engage in face to face contact with friends, Fr. Rallanka said that students should use resources like FaceTime or Microsoft Teams to have conversations with others instead of just using texting. It is important to ask how others are doing during this time.
Rallanka has found positivity and hope through prayer and through spending time with other Jesuits who are also supporting their communities. He said, "The results of my prayer often put me in a greater place of hope than before the prayer, which inspires in me a greater desire to nurture that hope in others." Students at Seattle Prep can be socially distant while also finding ways to nurture hope in themselves and others as Rallanka advises.
About the Contributor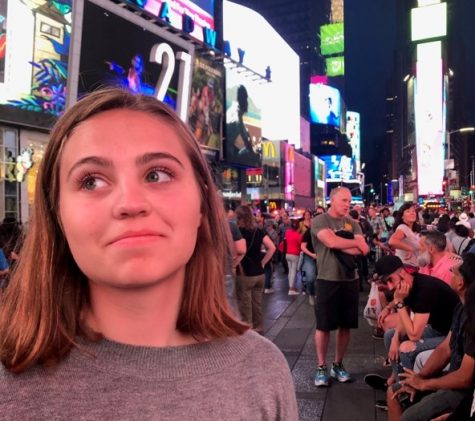 Paige Stanley, Editor in Chief
Paige Stanley is a Senior at Seattle Prep and is very excited to be serving as Co Editor-in-Chief of The Panther this year. This is her third year on the...