Lovejoy's Joyous High School Times
Librarian and Seattle Prep alum Mrs. Katie Lovejoy's high school years were filled with fun times which she wouldn't trade for the world. Her journey spanned from athletic championships to funny moments at assemblies.
Lovejoy '97 holds many memories from her time at Prep near and dear. Her favorite memory from high school was when her tennis team, coached by Mark Frisby, placed first in state both her junior and senior years, which was "unexpected and an awesome team accomplishment!"
Another one of her favorite memories was of a game played at assemblies which she described as a "total accident waiting to happen" and "not something that Mr. Stearns would ever bring back." It was nicknamed jello-wrestling, and involved the smallest freshman boy wrestling the two biggest senior boys in a wrestling ring filled with jello. "The freshman was always victorious, and it was very messy, crazy, and enjoyable," she exclaimed.
Lovejoy reminisced that during her time at Prep "students really used their lockers throughout the day…probably because we were lugging around a ton of really heavy textbooks," which differs from the virtually non-existent locker use in high schools nowadays. She went on to say, "Where your locker was dictated who you talked to every morning and in between classes."
While Lovejoy sees many similarities in Prep from her time as a student to her time as a staff member, some things have changed. One of the biggest differences she notices about Prep is the campus. During the past 20 years, a campus overhaul has taken place in which Adelphia Hall, which once stood next to McDonnell Hall where the back field now is, was demolished, and Peyton Hall was renovated into Adelphia Memorial Hall to accommodate for lost classroom space. Lovejoy commented, "I don't remember anyone ever calling [Adelphia and McDonnell] by name—that was just 'school.' It was so unusual for those buildings to be referred to by name that my husband (also class of '97) remembers a teacher asking as an extra credit question, 'What building are you in right now?'"
Lovejoy enjoys the "intentional work around building community" done at Prep and said: "To this day, I maintain so many good friendships with peers and adults I got to know while I was a student at Prep." She even met her husband at Prep, and the two of them were voted "friendliest" by their class for their senior superlative! She decided to return to Prep because she was drawn to work in a place "surrounded by really talented, intellectually curious, supportive people," which she loved about Prep as a student, and according to her, hasn't changed.
About the Writer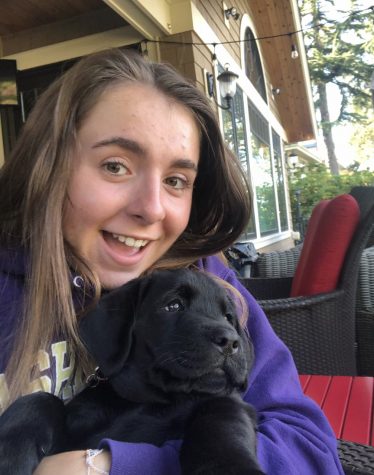 Kate Ridgeway, Managing Editor
Kate Ridgeway is a junior at Seattle Prep and she is co-Managing Editor for The Panther this year. Kate is an avid laxer and golfer but unfortunately has...