O'Meara Finds Inspiration in International Sport
Chloe O'Meara, 21', plays a sport that not many people have encountered before.  Born in Newbury, England, then moved when she was 4, O'Meara has lots of English background maintained in her life.  From her dad living there his whole life, to her grandad being related to the Queen, she has lots to talk about when people ask where she's comes from.  As her English background is still in full formation, she visits her dad's family in England repeatedly, along with her older brother who still lives there today.
Within her European tradition, she plays an exciting sport, that many may have heard of, but never played: Rugby.  On a league team, O'Meara plays and enjoys her traditional sport while living in Seattle, where not a lot of rugby is present, opposed to back home in England.  Her dad grew up playing rugby and came close to being a pro after his college days.  Because of his experience playing rugby, she watched the greatest players on TV growing up and eventually attempted rugby.  She now plays with her dad because she loves the game, as it was a sizable part of her childhood.
O'Meara and her father started and played in a rugby tournament fighting for Sarcoma's disease, after her dad's best friend unfortunately passed away from the illness.  They continue to raise money for the cause because "it is beneficial to continue to raise money through something that you love" she says.
People are often shocked when she tells them she plays soccer, along with rugby.  Tackling two sports at once can often be a struggle for her, but when it comes down to spending time with her dad and doing something she loves, she always makes time.  She does it for "the love of the game and pulling her weight for others around her," she explains.
The team aspect is what keeps her coming back for years to come, and rugby being in her blood keeps her focused on retaining her background.  She believes it's important to do the certain things one loves, no matter the backlash some may get from peers or others.  She tells students of Seattle Prep to "stay true to your beliefs and follow your passions."  Words to live by.
About the Writer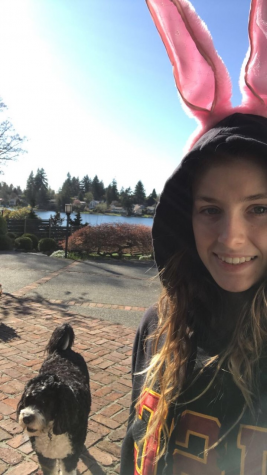 Piper Wood, Staff Writer
I'm Piper Wood and I am a senior at Seattle Prep.  This is my second year on the Panther!  I love the movie Ratatouille and my favorite dog is a Bernedoodle. ...