Prep's Cultural Cookbook
Whether it's lumpia, arepas, spaghetti, schnitzel, baguettes, chai tea, and more, students at Prep have diverse pallets regarding their favorite family foods. While Prep students come from over 64 zip codes in the greater Seattle area, many students also come from different family heritages around the world. With these heritages, students share their favorite family recipes.
Alex Battle '21 has strong family roots in Germany. Her mother was born in raised there and her entire family on her mother's side lives in Bamberg, Germany. As a German and American citizen, Battle '21 knows the beauty of Germany and the delicious food.
When asked of her favorite German food Battle '21 responded, "Wow, where do I begin.  Everything?" However, when picking just one, she chose schnitzel, which is a traditional German comfort food. Schnitzel is traditionally breaded pork or steak chops served with Kloesse (potato dumplings) and Rotkohl (red cabbage).
Gustavo Romero '21 is lucky enough to have lived all around the world, including Venezuela, Madrid, San Francisco, and Seattle. Romero '21 feels most connected to Caracas, Venezuela which is where he was born and most of his family lives there. When describing Caracas, Romero '21 calls it "my home, and it's super tropical and sunny all the time."
Romero '21 recalled his favorite family dishes from Venezuela are arepas and tres leches. Arepas are "a staple food from the region" and are served from breakfast lunch and dinner. They are flat, round and made of masarepa which is a pre-cooked cornmeal solution. While arepas used to be a bread substitute, they are now filled with things like eggs, ham and cheese or beans and meats or can be cooked in different ways. Romero '21 shared that is mom makes them slightly fatter on the stove, while his maternal grandma makes them thin, while his paternal grandma makes small. Romero '21 said, I love them because they are versatile and you can make them whatever or however you want, and because it's a taste of home- it brings back memories of arepas by the Caribbean with my family and Sunday family dinner at grandma's house.
Tres leches is a typical Latin dessert made with three different kinds of milk, including condensed milk, evaporated milk and whole milk. Romero '21 described it as "a very wet sponge decorated with whipped cream…It's a very light cake." This recipe stands out to him because it reminds him of family reunions.
Sofia Bonjrada '23 is very familiar with her Italian heritage because both sides of her family originated from Italy. Her dad and his family were born and raised in Sicily, while her mom's grandfather came to America from Naples, Italy. With both of her parents fluent in Italian and her relatives living in Palermo, Italy, Bonjrada '23 is very familiar with her Italian heritage. With both of her parents owning Italian restaurants, she claimed it "makes me feel as if I have a stronger connection to my Italian roots."
Bonjrada's '23 favorite family recipe is Spaghetti Ortolano. As pasta is one of her favorite foods, she said it is very good. "Its spaghetti tossed tomatoes, spinach, pine nuts, and goat cheese. I usually would not like those things individually, but when mixed all together with pasta, it makes an amazing meal" Bonjrada 23'.
These three Prep students and many more feel a connection to their family heritage through the recipes that they are able to share with their families. Food is known to bring people together, as Bonjrada '23 shared, "Although I have never been to Italy, having my Italian family and Italian meals to be surrounded by almost makes it feel like I have."
About the Writer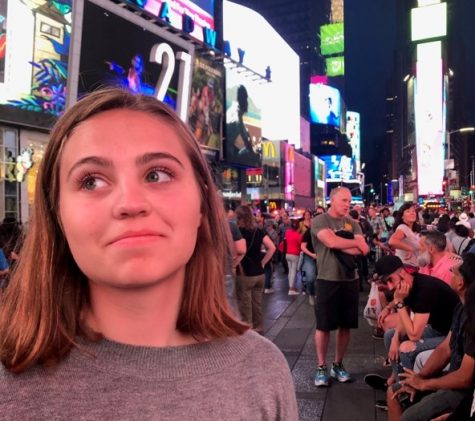 Paige Stanley, Editor in Chief
Paige Stanley is a Senior at Seattle Prep and is very excited to be serving as Co Editor-in-Chief of The Panther this year. This is her third year on the...