La Vie de Flore
Sophomore maintains strong French background
"It's really important to get to know other cultures because it offers a different perspective on life," says sophomore Flore Bindel.
Bindel '22, who was born in San Francisco and moved to Seattle in 2012, has strong familial roots in France. Her parents were both born and raised in France until they moved to the US in 2000, and because of this, she holds dual citizenship to both the United States and France. All her relatives have remained in France so her family travels there every summer and every other Christmas to visit them.
This past summer, Flore and her siblings Hugues and Marguerite, spent about two months in France. They began their European tour in the town of Annecy in the French Alps, where her grandma lives. Following that, Bindel traveled to Spain for a camp near the city of Malaga. The Bindels also visited Saint Jean de Luz in the Basque country in Spain, as well as Italy and Switzerland. At times, her family stayed in l' auberge's, which are cabins in the middle of the mountains, and they even hiked alongside wild cows and sheep! Bindel cherishes her summers in France because of the time she gets to spend with her extended family "When your loved ones are across the Atlantic you really grow a notion of gratitude for the time you get to spend with them."
Bindel is fluent in French and started speaking it before she learned English, saying: "When I went to preschool, I didn't know much English, so I had a little French accent!" Her parents emphasize that she and her siblings maintain their French language skills, so they only speak in French at home. Bindel says, "Learning a language is super important because it provides so many outlets!"
Bindel appreciates the originality her French culture gives her, saying, "I have two visions on things because I have the French version and the American version. Also, since I'm surrounded by two different cultures, seeing the difference is super interesting!"
Given college is approaching for her in a few years, Bindel wonders whether she will attend college in America or France. She says, "It's kind of stressful to think about because it would be cool but it's such a different schooling system. Also, I think that since my family is so accustomed to American life it'd be a really big shock."
Bindel will spend Christmas in Argentina this year and France the following year and is already ecstatic for her yearly trip to France next summer! She encourages others to travel and experience new cultures, and next summer is the perfect time for that!
About the Writer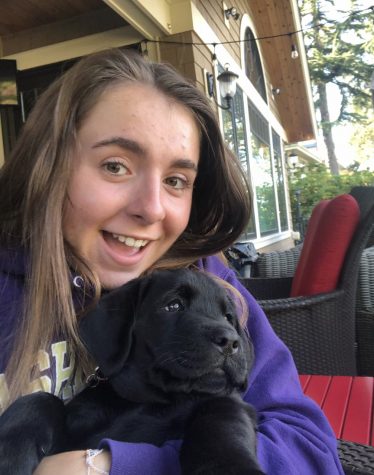 Kate Ridgeway, Managing Editor
Kate Ridgeway is a junior at Seattle Prep and she is co-Managing Editor for The Panther this year. Kate is an avid laxer and golfer but unfortunately has...