Outdoor Adventures in the Pacific Northwest
According to a poll on the Seattle Prep Instagram, around 60% of Prep students prefer spending time outdoors as opposed to in the city. Summertime this easy, but once school starts back up and schedules begin to fill, it can often be hard to find the time to get outside, not to mention the find the perfect activity to do. To aid with this struggle, Blake Weld '21 and teacher Ms. Young provided some insights on enjoyable activities outdoors this coming year.
Hiking

The plethora of mountains in our area makes for an abundance of hikes with spectacular views. Blake Weld '21 remarked that some of her favorite hikes are: "Red Mountain, Mt. Pilchuck, Mailbox Peak, Mt. Si, Tiger Mountain." Math teacher Ms. Young, who also serves as the Outdoors Club moderator, enjoys longer hikes and backpacking because it "is truly unique because it gets you away from the crowds of day hikes and you get to see views at sunrise and sunset." Her favorite hikes from this past summer included: "Kendall Katwalk, Heliotrope Ridge, Gothic Basin, and Maple Loop Pass."
Boating and Sailing

With Lake Washington, Lake Union, and the Puget Sound so close, spending time out on the water is very enjoyable. Boating activities are extremely popular around this time of year, but for a more dynamic lake activity, try wakeboarding, wake surfing, or sailing. Sailing provides a truly unique experience, and many nearby community centers and yacht clubs offer wonderful youth sailing programs.
Snow Sports

In the winter months, snow sports provide a fun outdoor activity amidst the cold. Prep hosts a winter ski bus, but for people looking for something different, sledding and snow-tubing are great options. The Summit at Snoqualmie features a great tubing park during the winter.

Biking

Biking has exploded in popularity in the past few years with the addition of bike-sharing companies. Ms. Young shared that biking is one of her favorite outdoor activities, remarking: "I bike almost everywhere around town which was not possible for me back home in South Carolina." Bike-sharing companies such as Lime Bike and Jump Bike make this easy by offering access to bikes with a simple download of a mobile app.
Beach Parks

Being surrounded by bodies of water, beach parks are a scenic place to pass time with friends. Blake appreciates the large number of parks in our area and especially likes Alki beach park. Parks such as Discovery, Golden Gardens, and Carkeek have great beaches as well. Head there for a picnic with friends, to take some cool pictures, or just to have a fun time!
The varied landscape of Washington produces what Blake Weld refers to as "views in every direction" and provides countless opportunities to get outside and be active in ways that can suit various interests.
About the Writer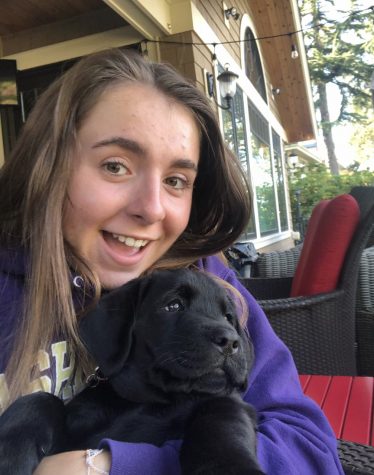 Kate Ridgeway, Managing Editor
Kate Ridgeway is a junior at Seattle Prep and she is co-Managing Editor for The Panther this year. Kate is an avid laxer and golfer but unfortunately has...