"One Acts" Revamped for 30th Anniversary
Hang on for a minute...we're trying to find some more stories you might like.
Previously known as The Festival of One Acts, the annual Student Theater Festival has returned to the Seattle Prep stage this spring for the 30th year. Set to hit the stage the week of May 13th, theater students are hard at work to be show-ready after six weeks of rehearsals.
This year, seven different short plays are being directed, ranging from a comedic stage interpretation of Friends to the drama of The Book Thief. These shows will be performed after school the week of the May 13th, Prep's Arts Week. Then, at the end of the week, all the shows will be performed in front of an audience and a panel of judges who will judge each performance and determine the winners of different awards, including Audience's Choice and Best Original Show.
This year, Mr. Othman, who oversees the entire Student Theater Festival, has decided to change the name of the festival to encapsulate more performing arts styles than simply one act plays. Othman explains on the name change that he "wanted the Student Theater Festival to capture more than just 'one acts' because there are episodes of TV shows, original plays, and renditions of books being performed that cannot be simply described as 'one acts.'" Othman will mentor the directors throughout the process and guide them through their own creative processes in a more informal setting.
Joseph Sneifer '19 is back to direct for his second year. This year he will be taking on a bigger responsibility as he will be directing the 6-person cast of "Downsizing" based on the episode of The Office.
Sneifer discusses that he "loved the experience of directing last year and was ready to direct a bigger show." Sneifer loves the sense of community that is part of the Student Theater Festival.
When discussing his favorite part of directing, Sneifer shares that he enjoys "working with the actors to create a great show." With the Student Theater Festival being student lead, actors and directors feel a creative freedom unlike any they have felt in other productions at Prep. Sneifer says that this more informal process leads to "a better sense of community among the cast and creates a show audiences will enjoy." He is excited to see how the different actors and directors participating in this year's Student Theater Festival bring creative takes on the stories.
The Student Theater Festival is a fun way for students to showcase their talents. Victoria Lange '20 is participating in her first short play in The Student Theater Festival and explains on her decision to audition for the Student Theater Festival, "I just love theater and performing so much, I had to participate!" Lange will be playing Pam in Sneifer's "Downsizing" this year and is very excited about taking on this iconic role. When discussing why she loves theater so much, Lange explains "working with the Seattle Prep Drama Program has really helped my confidence grow."
The shows that will be performed in this year's Student Theater Festival include: "Book Thief," "Hard Candy," "Two Percent," "Please Have a Seat," "Rewriting the Story," "No One is Ready," and "Downsizing."
The Student Theater Festival will be taking place after school the week of May 13th in the Seattle Prep theater and are free of cost. Student directors and actors work hard to make their performance the best they can be, so show your support of the Seattle Prep Drama Program and go see as many short plays as you can!

About the Writer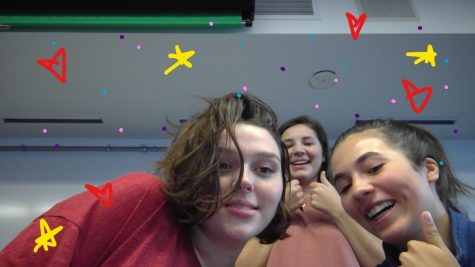 Abby Malzewski, Staff Writer
Abby Malzewski (far right) is a senior at Seattle Prep, and this is her second year on The Panther staff. Abby enjoys being pushed to her limit on runs...