Snowpocalypse Dumps Extra Schoolwork on Seattle Prep Students
If you thought Viadoom was going to be the only challenge Seattle would face in February, then you were wrong. The past two weeks, which accumulated the most snow in February since 1916, have rightfully earned the name "Snowpocalypse" and turned the city upside down.
For Seattle Prep students, it seemed like the past few weeks couldn't have gotten any better after the 4-day weekends from finals, retreats and Memorial Day, but it did. Not only were there snow days, but there were consecutive weeks with them. All in all, Prep students were given a total of six and a half days off of school due to the "inclement weather conditions."
I, like many, will never forget the joy I felt opening up each and every email from Seattle Preparatory School that simply read "closed." These school-free days gave me the opportunity to sleep in, go sledding down the hills in the West, and even have a fair excuse for getting out of work. I felt as though I was just like a kid again. However, one thing that definitely changed the mood of snow days came from an email sent out the night of Sunday the 10th which was summarized in three short words: Digital Learning Days.
As a second semester senior, the last thing I want to do is homework, let alone any work at all. My motivation is running at an ultimate low and the more days off I can take, the better. Though the intention of these learning days may have been good, the effect was not. Prep students expressed strong negative feelings towards the added learning activities, and surely procrastinated all their work till the night before we would go back. Instead of staying inside for what felt like nearly a full day of school at home, I would have much rather left my house to do literally anything else, even something like shoveling my driveway.
While there may have been highs and lows to the snow days for Prep students and faculty, the greater city of Seattle experienced many of their own as well. This event made history as people scrambled to prepare themselves for the biggest winter storm in years. Shelves of grocery stores went bare, tire chains were selling out, and businesses and streets were running low on road salt, all just days before the storm hit. The city was being picked up by national news sources and governor Jay Inslee even declared a state of emergency due to the snow.
Though the snow was fun while it lasted, Seattleites are happy to be back to their normal routine without the icy roads, layers of clothing and cabin fever, and for once, students were actually glad to be back learning at school.
About the Writer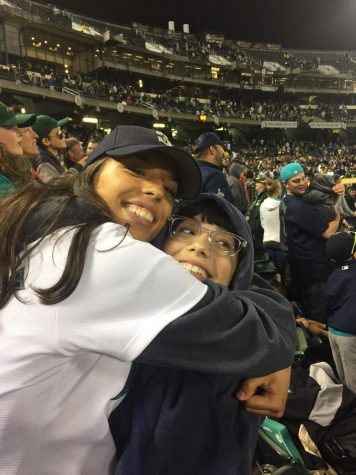 Kate Leahy, Editor in Chief
Kate Leahy is a Senior and Co Editor-in-Chief of the Seattle Prep Panther and is excited to be back for her third and final year. Some of Kates interests...