Gap Years Give Seniors Chance to Pursue Interests
The class of 2019 is preparing for their next journey. Majority will be headed off to college, however there are a select few that are choosing to take a gap year before they resume school once again. There are not that many people taking a gap year in the Prep community. This could mainly be because it's not seen as a traditional path and especially at Prep there is an emphasis on college, as well as getting some sort of professional degree. Parental support can be difficult to attain as well, as some parents fear that if their kid takes a gap year they'll never want to go back to school. However, it is much different for our very own pulse star Alexis Wong '19.
Wong decided to take a gap year because she wants a break in between high school and college. This is also important to her because she is strongly considering going into a career in medicine and knows how long the education can take and how much work and focus goes into it. She says that "A gap year also gives me an opportunity to focus on a passion of mine while also gaining a different life experience then just attending school, which includes living by myself for the most part, paying for rent, groceries, cooking, cleaning and so much more." Wong plans to move to Los Angeles with her friend from Roosevelt High School in August. They both plan to work and dance. Wong plans to audition for the KreativMndz Academy and hopes for a successful audition. She also will be doing some online school to prep her for her next years at college. Aside from moving to LA, Wong hopes to travel outside the country at some point, possibly to South America and maybe even Europe.
Taking a gap year did not allow Wong to miss out from the college application process. She has applied to one in-state school and a few Californian schools for regular decision and will choose to defer for a year. Her application process did not differ from those who are planning on attending college next year.
Many would think that making this decision would be very difficult, considering it is such a huge change as a young adult. However, for Wong it was not as hard as she anticipated. Both her mother and sister were in full support of her decision. Her mother actually even suggested it! Her sister took a gap year as well and really enjoyed it and benefited from it. She studied in Japan for six weeks and did a deep water diving program in Belize for another six weeks. She's in her final year at Whitman and it glad she took a break before pursuing her biology degree. Wong says that "everyone is supportive and is really just helping me plan. Helping checkout safe neighborhoods where to work etc. My friends also think it's really cool what I'm doing. I'm sure some people are more weary about it than others, but overall most are supportive." Wong is excited for her upcoming year and is determined to make the most out of her time to learn and grow and prepare for her future studies. 
About the Writer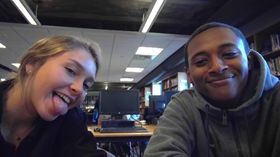 Katarina Conces, Staff Writer
Katarina Conces is a fun, loving and spirited person. Many people get her name wrong, including my Collegio teachers who just learned her name today!!...