Mazure Leads Boys Dive in First Season
After the successful addition of the Girl's Dive team last year, Prep decided this year to add a Boy's Dive team to the athletics department.
Currently, the team is made up of only one individual diver, Senior Max Mazure. Mazure says he signed up for the team because it looked interesting and it was something he had never done before, so he wanted to try it out during his last year at Prep. While learning how to dive, Mazure said coach Ed Artis, the Metro League Dive Coach, was very influential when he first learned how to dive. Mazure states: "My coach was instrumental in helping me improve my dives. He was very helpful and walked me through each new dive I had to learn and gave me pointers on how to improve them."
              Although diving may seem like an easy task, it is must harder than it looks. Mazure says there were many obstacles he had to overcome when he was first learning how to dive properly. Mazure said the biggest challenge he had to overcome was the fear of landing wrong: "When learning some of my dives I landed on my back more than a few times and it was sometimes hard to get back on the board and try it again."
              Another challenge divers face is building the confidence to get on the diving board. It can be a nerve-racking experience when all the swimmers, coaches and fans are focused on your dive, but Mazure says he was able to overcome this by simply practicing. Every swim meet he felt more and more confident getting up on the diving board and showing off his dives to the judges.
              Despite the many challenges divers face, Mazure says the reward of it all are the swim meets where the individuals dive for score. During these meets, Mazure got to bond more with his fellow Prep swimmers, as well as show off his dives to his friends since he does not practice with the whole team. His favorite dives to do at a meet are the double front flip and the reverse dive, both complicated but when done right, can earn Mazure many points at the judges table.
              One thing that might be surprising to newcomers of the diving world, Mazure says, is the scoring during meets. "Scores are much more than just how much splash there is after a dive. The run-up, hurdle, height of the jump, and the form of the dive are all factors that go in to the score," Mazure states.
              In spite of this being Mazure's last year at Prep, he has decided he loves the sport so much that he will continuing training with Coach Ed Artis for summer league. For anyone who might be interested in diving, he says, even if you have no experience, go out and try it because it is a really fun sport to be apart of.
About the Writer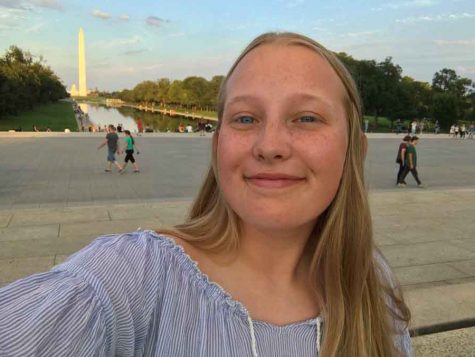 Chloe Saharic, Online Editor
Chloe Saharic has been on the Seattle Prep Panther staff for two years and is excited to start her Senior year as an Online Editor. She enjoys running...