Newsies Brings Turn of the Century New York to Life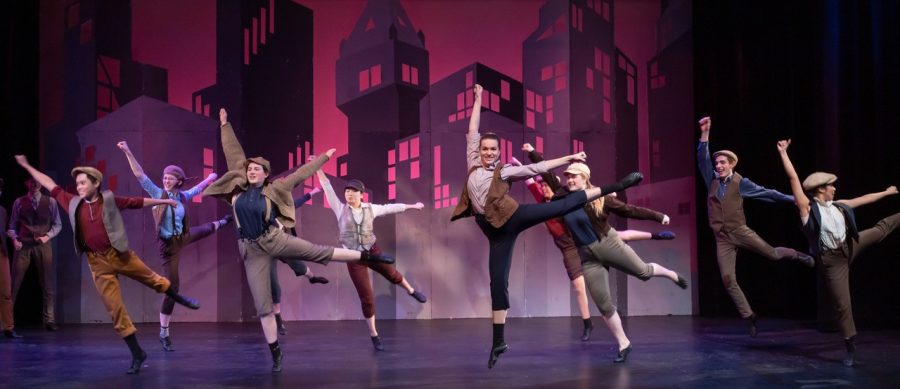 First debuting on the Seattle Prep stage on February 22, this year's musical, Newsies, was a hit amongst audience members. Throughout the show, the audience was transported back in time to the year of 1899, the time of the newsboys strike in New York City. In Newsies, we meet Joseph Pulitzer, a wealthy newspaper publisher who raises the prices of newspapers at the expense of the boys working for the companies. The story follows Jack Kelly, one of the newsboys, who steps forward and decides to fight back by going on strike with the rest of the newsboys in the hopes of sending the message across that the boys won't stand for this injustice.
Choosing Newsies to be the winter musical of Prep's 2019 school year seemed like an obvious choice for director Mr. Adam Othman. When describing why he choose Newsies, Othman explained "I have always been a fan of the 1992 film, and in 2013, I saw the show on Broadway and it absolutely blew me away with the songs, choreography, and heart-felt story." Othman says that this was "one of the most dynamic and energetic shows we have ever produced. It had something for everyone."
Othman had hoped that everyone, from parents to students to faculty members, got out to see this show that the cast and crew worked so hard on for 12 weeks. This wish became a reality with many sold out shows with a packed theater. In describing why he believed Newsies was such a success, Othman elaborates, "this show was something special. The cast and crew involved 72 hardworking and talented Prep students (nearly 10% of the entire school)."
Newsies was senior Michael Hoyal's first theater production at Prep. Although this was his first Seattle Prep production, Hoyal is by no means new to the world of singing and performing. He has always had a passion for the two, but this year he decided to further explore those passions on the Prep stage. He finally decided to audition because the musical combines both signing and performing "in a way that fosters a fun bond between cast members."
Even though this was Hoyal's first year in a very tight-knit theater community, he described the community as very accepting of newcomers. Hoyal said, "especially through all the rehearsals we have, we all get to know each other so well. The community is very welcoming and fun!" Hoyal was featured on stage in Newsies as part of the Newsies ensemble and as the Brooklyn Newsies lead member, Spot.
Sici Mirante '19, a regular in Prep's annual musical production, was seen on stage this year and playing three very different roles: a nun, a Bowery Beauty, and a Brooklyn Newsie. When explaining what makes her come back to participate in the musical every year, Mirante explains, "I love being part of the theater community at Prep because every gets along so well and everyone just has a good time." Mirante described Newsies as, "not like any of the shows I have ever been a part of, but that's what made it so fun!"
Mirante discussed how putting on a performance like Newsies is no easy task. Since late November, the cast and crew have prepared for the show through countless rehearsals and practiced songs and dances any time they can in between the other distractions of their normal high school lives. Mirante stated that her favorite part of the musical process is the "late night rehearsals because you are surrounded by your friends for so many hours straight."
Junior Marc Ribas knew from the very start of the process the kind of potential that this show would have at Prep. Ribas describes, "Newsies was a smash on Broadway, and it was a hit at Prep, too." Ribas played the role of Race, a fellow Newsie, and loved putting on this show because it had "lots of great songs that everyone loves."
Ribas was correct in assuming that Newsies would be a "hit" on the Prep stage. Audiences left the show with the catchy songs of Newsies, like King of New York, stuck in their heads and feeling inspired by the Newsies spirit.
About the Writers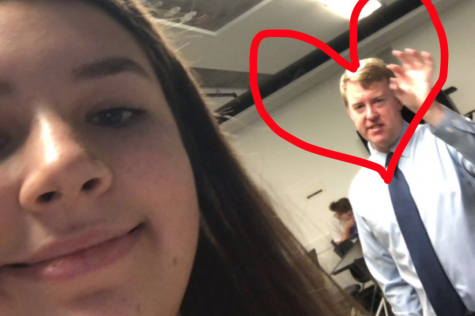 Quinn Losse, Staff Writer
Quinn Losse is a senior at Seattle Prep and this will be her third year on the staff of The Panther. She enjoys long walks on the beach and making mukbangs...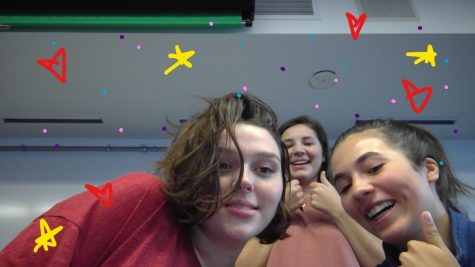 Abby Malzewski, Staff Writer
Abby Malzewski (far right) is a senior at Seattle Prep, and this is her second year on The Panther staff. Abby enjoys being pushed to her limit on runs...