Meeting Metcalf: Emotions and Art
There are many styles of photography, in all of these, the artist attempts to get across a perspective or emotion to the viewer. Seattle Prep's own Bella Metcalf '19 is no exception. Bella has been interested in photography for a long time.
"My whole family is all photographers. Or they love to take photos".
So, it was no surprise when, in the second semester of her sophomore year, Metcalf took up an art class and began photography officially. Over the last 3 years she has developed her own unique style that is a portal to the feelings and burdens of a high schooler.
Metcalf has created her own style and described her art and her intentions surrounding this distinctive approach.
"There's a couple of my classmates who are more of the collage type and some that like to color things in. I like it plain and simple, just black and white. This part of my concentration is more like I put words in it, so people know what the expressions and feelings are."
This black and white straight forward outlook is very prominent in her pieces, and with her included text in the background, really makes the viewer feel a touch of the stress that all high schoolers experience. Most of her art has text displayed over or in the background over a picture of high schooler. The text usually refers to their fears and personal problems. In her own words, Metcalf defines her style.
"Basically, what teenagers go through in high school, and that's what I want to do, I want to go into psychology and I want to do that stuff so I use this to see if I really want to go through it. I want to express that every single person has a lot of issues and you don't even know what's going on".
The text usually deals with the topics of parent issues, responsibilities, stress and spiritual uncertainties. This is clearly evident if you look at some of her pieces that focus on the darker thoughts that each of the subjects try to hideaway but are brought to life in the photo and in the text. Drawing her inspiration from other artists and their portrayals of emotions, through art, Metcalf adds her own twist on focusing on a more relatable topic, the issues of a high schooler. Through this adapted style she attempts to voice her topic on teen depression. Metcalf delves into these issues to help others know they are not alone, and they should not be afraid to express who they really are.
"I would say, to not be afraid to express your feelings and realize that maybe you have anxiety or you have depression but everyone has a different feeling that they are going through. Or like someone might have a different experience with a parent loss or a parent divorce or something like that. So, I want them to realize that there are other people who are out there who have the same issue or who have gone through the same thing and they can help them. Like you don't really need to, it's not good to keep all of your feelings inside and I want to express that".
With these otherwise unspoken difficult subjects and dilemmas brought to light, Metcalf uses her gift of photography to help people to open up, connect, voice their experiences and relate to each other.
About the Writer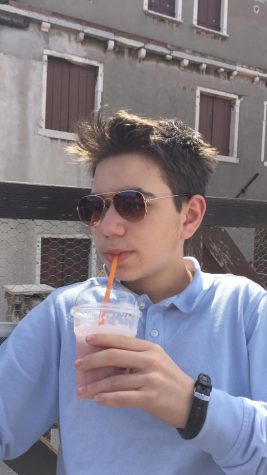 Hobbs Hegedus, Staff Writer
Hobbs Hegedus is a Junior at Seattle Preparatory School and has been writing and illustrating stories since the third grade. He is currently working on...