Students Display Talent in The Nutcracker Despite Busy Prep Schedule
No homework, sleeping in and Christmas memories. As it is the longest break of the school year, many students choose to add activities to their schedule during this time off from their busy schedules. While some students take on jobs over winter break, other students take the Christmas season to display their talents, such as in the Prep students performing in Pacific Northwest Ballet's The Nutcracker. The performance is one of Seattle's best-known holiday attractions amongst some new ones including the Enchant at Safeco field, and holiday plays at the Fifth Avenue and Paramount theaters. Since 1975 performers young and old participate in The Nutcracker providing holiday entertainment to the Seattle area.
Several Prep students including Blake Weld 21', Mia Griff and Fletcher Weld 19' have performed in PNB's The Nutcracker and Grace Cooney 21' is in the International Ballet Theatre (IBT) production. These students share the experience of balancing ballet and school and provide insight into what the Nutcracker community is like. Senior Fletcher Weld has performed in PNB's The Nutcracker five times with roles including a party boy, toy theater and Calvary officer. As well as Mia Griff, he agrees that balancing ballet and school was easier in middle and elementary school but, as they moved to Prep, it is a big commitment. Weld 21' says, "When I was in The Nutcracker I was usually in 20 shows." Weld says, "I had to be there for 4 hours per show. Since I have been at Prep, my normal ballet and added shows are definitely hard to balance with regular homework. When I am in a show, I am at the studio 6 or 7 days a week for 30 hours or so."
With the busy schedule of a Prep student, an added activity adds to the stress and responsibility of getting homework done on time. Not only are the shows a large commitment, rehearsals are almost every day. This brings up the question whether it is worth adding The Nutcracker to their schedule during the Christmas season. To this Weld 19' says, "Being backstage in such a big production is an amazing, unique experience that I am glad I had… It is rewarding to perform in front of a packed house of 4000 people and show off all of your hard work."
Proving the display of talent and hard work is worth the added stress and commitment, students realize that Christmas break is a time to do what is not possible during the school year. Senior Mia Griff says, "It was when I saw the PNB Nutcracker for the very first time, and I was immediately enchanted by the production. My mom enrolled me in ballet classes at PNB, and three years after I started dancing I had the opportunity to audition to be in the production." Weld acknowledges that making the audience happy is a big part of the reward. Sophomore Sophie McDowall 21' has gone to The Nutcracker as a family tradition for as long as she can remember and admires the performers talent and ability to balance school along with it. She says, "I think it would be hard to do ballet and school, especially at a very high level, because it is such a time commitment. But it would be worth it!"
The Nutcracker is a part of many students' holiday traditions and spreads the Christmas spirit. Grace Cooney 21' shares, "What people in Nutcracker create is a magical embodiment of the holidays, it is not only a joy to be a part of, but an honor. Being a part of such an amazing company with incredible faculty, staff, and dancers is surreal in itself." Support these Prep ballet dancers as the PNB shows run through December 28th  and the IBT shows run through December 23rd.
About the Writer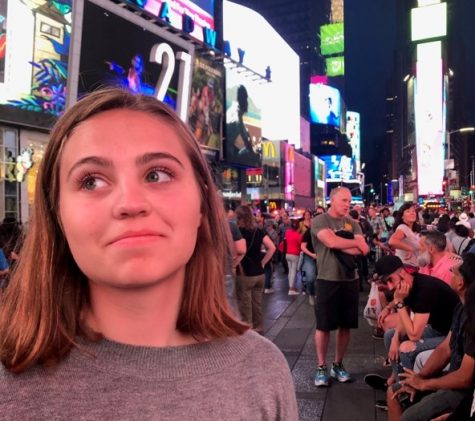 Paige Stanley, Editor in Chief
Paige Stanley is a Senior at Seattle Prep and is very excited to be serving as Co Editor-in-Chief of The Panther this year. This is her third year on the...