Mock Trial Places Third in Prestigious Providence Cup Competition
Hang on for a minute...we're trying to find some more stories you might like.
Seattle Prep has had a great start to the new school year with sports and academics, especially Mock Trial.
The Seattle Prep Mock Trial team has been working hard, putting in hours of
practice, both during window and occasionally after school. The team has had a great start to a successful season this year.
Just recently the team traveled all the way to Denver, Colorado to compete in the Providence Cup alongside 28 other high school teams. They were able to put all of their hard work to use and be successful, despite a small snafu.
Abigail Potts '19, a key teammate, was unable to attend so in the last minute so Elisa Simon '19 stepped up and filled her position graciously.
Simon hurried to prepare and tried to memorize all of Potts's direct examinations, cross examinations and speech. In the end, she saved the team and did an outstanding job.
The Varsity mock trial team of eight started out competing on Friday, October 19th and continued on the following
Saturday, split into two teams of four.
This specific competition was held at two different locations; the University of Denver and at the downtown Denver Courthouse. The Prep team stayed at the Marriott hotel, about a mile away from
Denver University.
While participating at both locations, the Mock Trial team competed in a bracket-like tournament. Every team competed four times and as each team won their trials, they progressed further, going up against better and harder teams each time. One team consisted of Liam McNett '19, Maggie Waltner '20, Julia Oles '20 and Amber Richards '19 placed third in this prestigious competition.
Richards reflected on the event saying "overall, the competition was really fun, difficult and good preparation for our usual season.
Mock Trial Coach Mr. McCarthy was really happy, as was the rest of the team. I am excited for what is yet to come with this team."
While working hard and staying focused, the team also had a fun time. McNett recalls his favorite memory on the entire trip. "My favorite memory would definitely have to be Julia Oles reading
everyone's palms on the team, including Mr. McCarthy's and predicting our futures." The team is very happy with their success in this tournament and are thankful they were able to bond over an experience such as this one.

About the Writer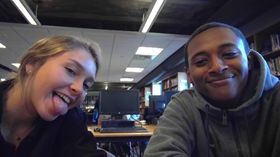 Katarina Conces, Staff Writer
Katarina Conces is a fun, loving and spirited person. Many people get her name wrong, including my Collegio teachers who just learned her name today!!...