Panthers on the Path to State Athletics
              Most Prep students love following Panther athletics. But, there are a fair amount athletic teams competing right now, and it can be hard to follow all of them. With volleyball, girls soccer, cross country, girls swim, girls dive, golf, and football, there is a lot of information and updates about the teams are doing, many of the teams are off to battle in state or are in the midst of playing in the metro tournament.
              Girls soccer, which is arguably the most notable sport during the fall at Seattle Prep is off to state and competed in the metro finals on Thursday. The team has a plus 62 goal differential and are led by Seniors Bee Franklin, a Notre Dame soccer commit, and Helena Reischling, a University of Washington Commit.
              The cross country team is sending two boys Junior Cooper Klein and Senior Luke Jensen to the state competition. The race took place Saturday November 3rd in Pasco Washington. Cooper ran a 16.41.6 at the 3A district 2 competition and placed 15th. Luke Jensen ran 16.58.1 in a breakout race in which he broke his PR by almost 30 seconds.
              The volleyball team is in the middle of the Metro tournament. They are battling hard to stay in the winners bracket and are led by junior Clair Filarski and senior captains Sophie Piacentini and Caroline Reischling
Both the boys and girls golf team are waiting on news of the other districts around the state to see if they have qualified for the state tournament. Other districts play golf as a spring sport instead of fall, which is the cause of this wait.
The girls swim is competing in districts with Molly Bevan, Sydney Chalmers, Grace Foley, Taryn Frank-Looney, Maggie Green, Eva Guarda Vazquez, Ella Hill, Carolyn Kounellas, Bella Metcalf, Bea Obaob, Gabby Stuart, Maya Warnock. All looking to earn a spot in the state meet. While diver Kate Leahy is off to state due to her fantastic performance at metros in which she placed 3rd. 
The football team is competing the round of thirty-two on Friday against the mighty Peninsula Seahawks. A win would springboard them into a bracket style play in which a committee would rank the sixteen remaining teams and then continue bracket play.
About the Writer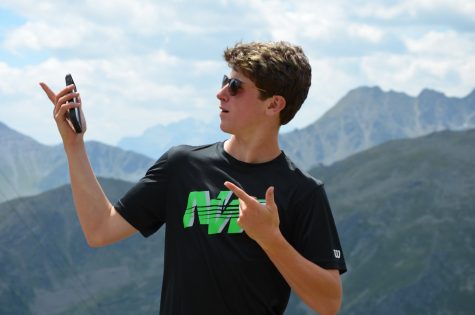 Kellen Carr, Staff Writer
Kellen Carr is a junior at Seattle Prep, and is in his second year on the Panther Staff this year! He plays baseball, basketball, and a little bit of soccer....