Keeping Up With the Clubs
Robot wars, celebration of culture, social justice, and Super Smash Bros. Like minded individuals have the opportunity to celebrate their differences, interests, and meet others that they normally wouldn't in different Seattle Prep clubs.
Global Justice Coalition is a service focused club whose mission is to educate students about global justice issues. This year's main topic is homelessness in the greater Seattle area and the roots of homelessness. Thomas Reuter '18 was first drawn to the club from announcements saying, "get ready to change the world." He said, "I suppose that call to be a part of substantial change in my community and even the world was what inspired me to join Global Justice Coalition."
Ms. Ford is excited about the addition of discussing current events at the beginning of each GJC meeting. She said this "is a great way to encourage students to be engaged with what's going on in the world." The group is focusing on Peace and Justice Week and Day of Service particularly, but they also help with the Giving Tree. Ms. Ford said to any students who are curious about GJC or want to join to "come and see what we're all about!" The meetings are Thursdays at lunch in McDonnell 118.
For any students who love to save Princess Peach or fight aliens, then Video Game Club is the place to be. Video Game Club adviser Nate Barmore said Video Game Club is all about providing "a space and time for Prep students to come together to create a community and relax while playing video games."
Owen Gent '20 says he joined the club because "video games have amazing potential as an art form." Gent is a co-president of the group and he plans out meetings, tournaments, and events outside of school along with Hudson Patterson '18. They give back to the community by donating the money raised from the tournaments. They meet every other Monday during lunch in the Flex Room. Gent said, "Please join, it's open to everyone. Everyone is nice and welcoming, and it doesn't matter if you're good or not."
Business Club aims to get students excited about business and entrepreneurship through hands-on experience. Angela Lin '18, one of the founders of the club along with Anna Gaberman '18 and Noelle Whitman '18, says they started the club sophomore year because they "realized business, or topics related to the field, weren't really covered in Prep's curriculum." They wanted to provide students exposure to what it would be like to create, manage, and run a business. The students participating in the club get to create their own startup called MIT Launch. They also bring in local business leaders as guest speakers to share their stories in the business industry. These events are open to the public and all are welcome, so people who aren't club members can still participate in the club's activities. For those interested in joining, Lin says, "Entrepreneurship is just another term for taking concrete actions to realize your dreams. If you have a startup idea, here's your chance to realize it."
The Seattle Prep chess team invites anyone interested in chess to join. The team competes with other schools across the state. They have made an appearance at state an impressive seventeen times, have had state finishes five times, and were the 1999 Metro Champions. The chess team is led by Seattle Prep alumnus, Taylor Larson. They practice after school, have matches on Wednesdays, and attend weekend tournaments. Chess team also hosts a Catholic Schools Tournament for students in grades K-8. Ethan McReynolds '18 says this tournament helped him choose Prep as his high school. He says this tournament gives back to Prep because it "exposes elementary and middle school students to the parts of Prep that they don't normally see." Anyone can join Chess Club whether they have experience or not. McReynolds encourages people to join because it is a great environment, and everyone is supportive and fun.
Black Student Union is an affinity club whose goal is to create a safe, supportive space for African American students of Prep. Club President, Nailah Patrick '18, says she joined BSU because "I liked the idea of having people around that looked like me." She explains that it can be hard going to a predominantly Caucasian school, but it is comforting to know that there is a group of people going through similar things as her that she can share her experiences with.  She also says, "Not only is it a place to find support during the hard times, but it also allows us to bring each other up and celebrate our culture."
They bring in guest speakers and this year showed a screening of Black Girl in Suburbia by Melissa Lowery. Students in the club are encouraged to discuss issues that are relevant to them. Deino Scott, adviser of the club said, "Students are encouraged to take ownership of their school experience." BSU also gets parents involved with different activities. Mr. Scott encourages anyone to come to the meetings.
Feminist Interest Group is well known for having cake, but there is so much more to it. FIG is only three years old so each year the club has looked radically different. This year they started to work on broadening membership in the school and are finding more opportunities to sponsor events in the school community. FIG's goal, according to Ms. Borgen, is "to promote the social, political, and economic equality of all genders in the Seattle Prep community." They are doing this through activities, discussions, bringing in guest speakers, and outreach to the greater community. If students are interested in the club, Ms. Borgen says to come to a meeting. "Don't let the "fem" in "feminism" make you think FIG is only for girls- we're a club that's interested in issues that affect all genders."
Por todos los estudiantes latinos de Seattle Prep, [email protected] Club es el mejor lugar. But for students who aren't [email protected], there's no need to worry. Ms. Tordillos says "The Lat[email protected] Club strives to make all students welcome at Prep, especially those who identify as Latino/a and Hispanic." Julia Ribas '18 says she joined Latino Club "in hopes of finding a community in which I could celebrate my culture." She shares that her Spanish heritage is a huge part of her life that has shaped who she I, but sometimes she feels it is hard to express that part of her. Latino Club has given Ribas a family; she says, "every meeting is like a big family reunion."
One large focus for the club is to raise awareness about current issues. Earlier this year, they had students sign letters to Washington State representatives to support DACA. The club meets Mondays at lunch in i100.
Asian American Association spreads awareness about Asian heritages and builds a sense of community amongst all Asian American students at Prep. The group has been very busy lately with a bake sale for the Rohingya refugees fleeing to Bangladesh. The fundraiser was the first time the club has put on a school-wide fundraiser and they are very proud of its success. They are donating all the money raised from the bake sale to Catholic Relief Services to help those refugees. Looking forward at the rest of the year, they plan to organize a club field trip to the Wing Luke Museum, bring in guest speakers about the Japanese interment and have a club cooking lesson where they will make spam musubi. Rachel Wang '18 says through AAA, "I was able to meet some of my closest friends to this day and find a smaller community of students I could connect with at Prep." They encourage everyone at Prep, Asian or otherwise, to stop by their meetings every other Tuesday at lunch, which are every other Tuesday at lunch.
One Voice is a social justice club striving for the acceptance, understanding, and respect for everyone at Seattle Prep. Jonathan Driscoll '20 says, "I joined the club because it talks about LGBT issues, a lot of my friends were in it, and it just seemed like a really fun club." Driscoll loves the environment because everyone is nice and accepting. One Voice specifically invites Prep to embrace the Jesuit tradition of cura personalis, to uphold the dignity of all people, care for all people, and be loving and committed to Justice. Driscoll says One Voice helps broaden Prep's thinking and invites more diversity at Prep in regard to sexual orientation and gender identity. For anyone one interested in joining One Voice, anyone can join, and everyone is welcome.
About the Writer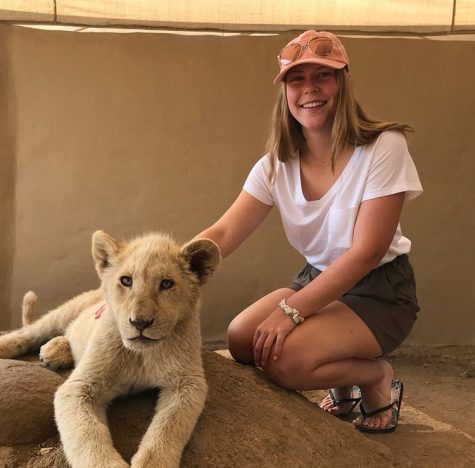 Audrey Frigon, Managing Editor
Audrey Frigon has been a member of the Panther Staff since sophomore year and is this year's Managing Editor. She plays Seattle Prep basketball and lacrosse....