Spring Sports at a Glance
Hang on for a minute...we're trying to find some more stories you might like.
As the Spring Sports Season comes to a close, its time to look back on the Panthers past Sports Season and see each program's effort to make the state tournament.
The boys soccer team wrapped up their regular season with ten wins, three losses, and two ties (10-3-2). Senior Captain, Owen Tabbutt, said of the regular season, "It's been a lot of fun playing with my senior classmates these past two years. This year we have nine seniors on the roster which for soccer is huge. And it's been great to see the progress that we have all made over these past four years."
The boys team entered into the Metro Tournament as a four seed where they played Lakeside in a loser out game to begin their post Season play. Unfortunately, the boys team was defeated by Lakeside 1-0 which ended their post season play.
The girls softball team concluded their regular season with a big win over Chief Sealth, putting them third in the Metro-Valley division with a record of 8-7. The girls were lead by four seniors, especially senior pitcher Madison Burmester. Speaking on the season, senior Mackenzie Skogland said, "We've had a lot of ups and downs this season, but it's made us closer as a softball family."
The girls' softball team began their post season playing Bishop Blanchet High School on May 7th. Despite the Panthers early 5-0 lead in the second inning, the Panthers were unable to hold the lead and lost to the Braves 15-8, which ended their post season run.
The boys baseball team ended their season with a 9-7 record qualifying them for post season play. Similar to the women's team, the Panthers faced divisional rivals Bishop Blanchet in the first round of the playoffs and were beat 3-1. Junior Ryan Shimizu said, "It was frustrating to have our season end so soon, but we've got a lot of upcoming underclassmen that make me excited for next season."
Girls lacrosse ended their season with 3 wins, 7 losses, and 1 tie. Though it was a disappointing season, Junior Captain Tennyson Hawk is optimistic about the next season because Prep has new talent coming to the program next year. The lacrosse team was lead by seniors Bryn Mallon, Maegan Manning, Ana Melder, and Maddie Cecchi as team manager.
Boy's lacrosse concluded their regular season with only two losses, which was the best record in metro, giving them the metro championship for lacrosse. Winning the metro championship granted the Prep Lacrosse team two byes in the state tournament, making them only have to win two games to take home the state title. On May 19th the Boys Prep Lacrosse team faced off against Lakeside, and despite the pouring rain the boys team dominated and won 14-6. Senior, Sergei Jacobs said of the Panther current Playoff run, "There's no other way I would've wanted my Senior year to go. First, winning the metro championship and now just one win away from taking home the state title."
The boys lacrosse team is now just one win away clinching the state title where they will face divisional rivals O'Dea, on May 26th at Starfire-Field.
The Seattle Prep track team had a successful regular season, with various athletes competing in the metro tournament on May 9th through May 11th. They will likely compete in the districts and state tournament after that. The track team is the largest spring sports program because there are no tryouts or cuts which allows students from different grades the chance to compete and interact with each other. Junior Eli Dever, who runs the 4 x 100 meter relay with underclassmen, said of the track team, "There's a lot of young talent on this team so I'm looking forward to competing with them in these upcoming weeks."
Unfortunately, Dever pulled his hamstring at the beginning of this season but lucky he recovered just in time to compete in what he calls the "playoffs" of track and field. This is just one story of many where the underclassmen are helping to take Prep track and field to state.
Sophomore Suzanna Graham who runs the 3200 Meter (2 miles) said, "Metros is one of the most competitive divisions in the state, but that's what makes it such a fun meet to compete in."
Stay tuned with Seattle Prep's track and field team as individual athletes and relay teams compete in the State Tournament on May 24th to the 26th.
Lastly, the Seattle Prep Men's and Women's Tennis team had an outstanding season with the girls winning metro and the guys coming in third. The girls tennis team went undefeated their entire regular season backed by Junior Captain Maria Philip and Senior Captain Fiona Scanlan. Junior Maria Philip said of the season, "It been really great seeing all of our hard work pay off this season."
The metro tournament for Tennis began on the week of May 7th and went for the entire week.
During the Metro Tournament, freshman Amelia Asfaw placed second in singles, Maria Philip and Ella Anderson placed first in doubles, and Alex Blattner and Aaron Yuan also placed first in doubles. The two double teams and Amelia Asfaw all entered into the district tournament and came up with scores that qualified them for the state tournament. The State Tournament begins on Friday, May 25th and continues to Saturday, May 26th.
Many of the Seattle Prep spring sports programs have had tremendous success in the regular season and in their post season play. However, continue to stay tuned to Panther athletics as the boys lacrosse team competes for the State Title on May 26th, Amelia Asfaw and the two doubles teams compete on May 25th and 26th for the Tennis State Title, and several track and field athletes will race for State on May 24th through 26th.

About the Writer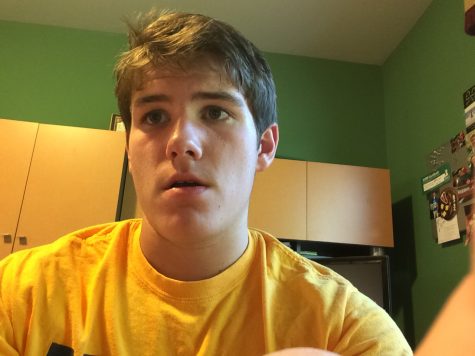 Owen Hendricks, Staff Writer
Hello, my name is Owen Hendricks and I am currently a Senior at Seattle Prep. This is my third year writing for the newspaper, because for window freshman...