"Times Up" on Inequality
Hang on for a minute...we're trying to find some more stories you might like.
"Times Up" is a movement that was founded on January 1 of this this year by Hollywood celebrities. This movement has built off the popularity of the #MeToo movement and the Harvey Weinstein cases that were recently brought to light. Although the "Times Up" and #MeToo movements are very similar, they have some different goals. The "Times Up" movement's goals are to get more legislation passed that are focused on gender equality (equal pay, equal opportunities, etc.), while the #MeToo movement's goal is to spread awareness of sexual assault cases.
Regarding the "Times Up" movement, there is also the "Times Up Legal Defense Fund" on GoFundMe, which was founded to provide financial support for people who want to fight sexual misconduct in the court system. The GoFundMe account has so far collected over $21 million dollars and its goal is $22 million dollars in only three months. There have been over 20,000 donations on that GoFundMe page. Donations from $5 to $50,000 are accepted online at: https://www.gofundme.com/timesup
According the "Times Up" website, the movement's mission is "for (a) change from women in entertainment for women everywhere. From movie sets to farm fields to boardrooms alike, we envision nationwide leadership that reflects the world in which we live." So far, the Times Up movement has made lots of progress and continues to stand strong through celebrities wearing black to support the movement at the 2018 Golden Globes and writing a published letter to the New York Times. We can't wait to see what progress the "Times Up" movement makes next.
The "Times Up" website sums it up best: "The clock has run out on sexual assault, harassment and inequality in the workplace. It's time to do something about it."
If you would like to learn more information about the "Times Up" movement, visit: https://www.timesupnow.com/

About the Writer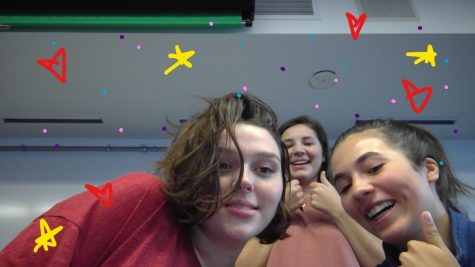 Abby Malzewski, Staff Writer
Abby Malzewski (far right) is a senior at Seattle Prep, and this is her second year on The Panther staff. Abby enjoys being pushed to her limit on runs...