Three Clubs, Two Meetings, One Fantastic Musical
Hang on for a minute...we're trying to find some more stories you might like.
A Malibu barbie walks into Harvard Law School. Though this may seem like the set up to a joke that will ultimately insult both the barbie and the law school, it is actually the premise for Seattle Prep Drama's winter musical, Legally Blonde.
The show follows the bubbly Elle Woods (played by Julia Ribas '18) on her journey from a heartbroken UCLA sorority girl to a confident Harvard Law student. After being dumped by the love of her life, Warner Huntington III (played by Moses Kent '19), during her senior year at UCLA, Woods follows him to Harvard to win him back. There, she meets new friends like Enid Hoops (Gabi Jeakle '19) and enemies like Vivienne Kensington, Warner's new girlfriend (Grace Kopp '19).
Throughout the show, Woods and other characters she befriends fight to be taken seriously, especially by Huntington, Kensington, and their friends. Elle's struggle to transcend her labels applies to the lives of every student at Prep. With that in mind, director Adam Othman and the cast launched an unprecedented tri-club collaboration between Drama Club, FIG (Feminist Interest Group), and One Voice to have a conversation about the stereotyping and culture clashes depicted in the show.
The topic of women and their place in entertainment media, as well as their right to protection from sexual assault in the workplace, has become a national discussion with the dawn of the #MeToo and #TimesUp movements. Recognizing that Legally Blonde is the story of a young woman fighting for respect in her field, Drama Club and FIG discussed the responsibility of the musical to tell Elle's story as honestly as possible. Drama Club Vice President and FIG Co-President Gabi Jeakle '19 explained that ideally, the musical should show the audience that "there is no mold that a strong female needs to fit into."
In the meeting held in January by Drama Club and FIG, Jeakle and FIG Co-President Ali Haag '18 explained the significance of Legally Blonde being both written by and starring women. Historically, women portrayed in film, television, or theater are defined by their stereotypes––serving as supporting characters in someone else's story. Even movies starring girls don't always depict all of them as complex characters (think the DUFF or Mean Girls). Jeakle explained that the goal of the meeting was to help the actors "understand that behind every stereotype is a story."
Grace Kopp '19 plays the show's "mean girl," Vivienne Kensington. As much as Kensington judges Woods, she is also confined by her role as Wood's enemy in the show. "Playing these one dimensional characters can be hard. It's hard to get the audience to be on your side and have them be convinced."
Legally Blonde also features three characters belonging to the LGBTQ+ community: Harvard student Enid Hoops (played by Jeakle), witness Nikos Argitakos (played by Hudson Patterson '18) and Argitakos's boyfriend Carlos (Remo Aurand '20). Continuing the mission Jeakle described, One Voice leaders Cameron Lambert '19 and Joe Robinson '20 focused their January 30th meeting with Drama Club on discussing the stereotypes placed on LGBTQ+ characters in film, television, and theater, and how Legally Blonde addresses them.
At the meeting, Robinson pointed out the typical LGBTQ+ character seen onscreen "is always a gay white male," alienating the rest of the community, especially trans people and people of color. He also noted that most shows including a gay character focus solely on their sexual orientation as their defining characteristic or central conflict. Featuring a song entitled "Gay or European," in which Elle and her fellow law students try to determine whether the witness Nikos Argitakos (Patterson) is gay or European, Legally Blonde does not make defying said stereotypes easy. Though not passing judgement on its gay characters, the song does not do much to develop them either.
Othman carefully staged the song so as to focus on Argitakos's sexual orientation as a vital aspect of the court case (he claims to have had an affair with the defendant, Brooke Wyndham, played by Annika Bjornson) rather than an indication of his personality, and tried to focus the song's performance on "a celebration, not a stereotype."
To Othman, the ultimate goal of the tri-club collaboration and its discussions is to acknowledge that, within Prep, "we have so many groups that are so isolated. We should celebrate and support one another," just as Elle strives to celebrate and support the friends she meets throughout the show.
Legally Blonde's Club Night will be taking place on Saturday, March 3rd, at 7pm, featuring One Voice and FIG themed snacks and lobby displays featuring information about Women and the LGBTQ+ community as it relates to the show.

About the Contributor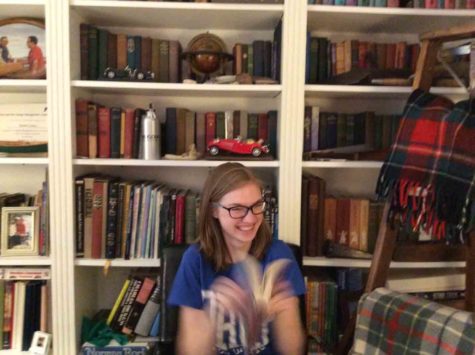 Emma Cooney, Editor in Chief
Emma Cooney (Editor-in-Chief) is super excited to be on staff for her senior year at Seattle Prep. Besides sleeping, she enjoys taking long pensive walks...