The Golden Globes 2018 Addresses Important Issues
Hang on for a minute...we're trying to find some more stories you might like.
The 75th annual Golden Globes were broadcast on NBC on January 7 and it was a show to remember. Hosted by late night host Seth Meyers, the awards ceremony was filled with laughing, crying, rounds of applause, and standing ovations. The Shape of Water was nominated for 7 categories and The Post, Three Billboard Outside Ebbing, Missouri, and Big Little Lies were nominated for 6 categories. Big Little Lies and Three Billboards Outside Ebbing, Missouri took home the most awards with 4 Golden Globes each. However, this year's Golden Globes 2018 was not only about the awards and the fancy attire. Throughout the show, many people addressed some of today's most pressing issues.
In his opening monologue, Seth Meyers commented on several timely topics.  After greeting the crowd and viewers at home, Meyers went on to say, "it's 2018. Marijuana is finally allowed, and sexual harassment finally isn't." He also makes references to the industry's uncovered sexual harassers: Harvey Weinstein, Kevin Spacy, and Woody Allen.
Towards the end of his segment titled "Jokes Seth Can't Tell," Meyers pointed out Saru Jayaraman in the crowd. Saru Jayaraman is an activist for Time's Up; a legal defense fund that supports those who were sexually assaulted and, according to their website, "addresses the systemic inequality and injustice in the workplace that have kept underrepresented groups from reaching their full potential." Finally, Seth Meyers revealed that "when you are on a film set, you meet hairdressers and camera people and script supervisors… They are the American Dream jobs… People in this room worked really hard to get here, but it's clearer now than ever before that the women had to work even harder." With this, Meyers stressed the importance of film crews and how their hard work, the work of immigrants, is what makes a movie a success.
Many of the award nominees also mentioned today's issues in their acceptance speeches.
Pixar movie Coco won Best Animated Feature Film. The writer and producer of the film Lee Urkrich thanked the people at Pixar and Disney "for trusting us to tell this unique story and empowering us to tell it with the respect and dignity that it deserved."
Allison Janney, who won Best Supporting Actress for I Tonya, said that she loved that movie because it "tells a story about class in America, tell a story about the disenfranchised, tell a story about a woman who was not embraced for her individuality, tell a story about truth and the perception of truth in the media and the truths we all tell ourselves when we wake up in bed." These topics—class, voting rights, people judging people for their individuality, and fake news—have been problems that face society every day and I Tonya shines a light on them.
Sterling K. Brown, who won Best TV Actor in a Series for This Is Us, recognized Dan Fogelman, who is one of the writers of the series, for writing a role made for a black man: "I am seen for who I am and I'm being appreciated for who I am. And it makes it that much more difficult to dismiss me or dismiss anyone who looks like me." This goes to show that blacks are starting to get more and more appreciated and not judged for the color of their skin.
The most talked about award of the night was the Cecil B. Demille Award given to none other than Oprah Winfrey. Oprah's speech was packed with moving stories and words that inspired many. She started off her speech with the story of Sidney Poitier (a black man) winning Best Actor in the 36th annual Academy Awards and what that moment meant to her as a little girl. She said that the only way that she could describe this moment was with one single phrase: "amen, amen, amen, amen."
She said that it has occurred to her that she is the first black woman to receive this award and realizes that there are little girls who are watching her receive the award. She then said that she values the press for uncovering the truth. She stated that "what I know for sure is that speaking your truth is the most powerful tool we all have" and that she is happy that women are strong enough to tell their stories.
Oprah then went on and listed occupations of women "whose names we'll never know" such as domestic workers, academic engineers, and business. She tells the story of Recy Taylor and Rosa Parks: two powerful women who have endured many hardships in their life. Oprah ended her speech with this powerful message: "And when that new day finally dawns it will be because of a lot of magnificent women, many of whom are right here in this room tonight, and some pretty phenomenal men, fighting hard to make sure that they become the leaders who take us to the time when nobody has to say 'Me Too' again."

About the Writer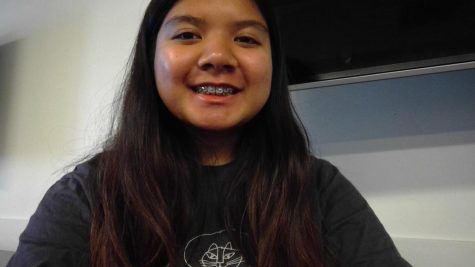 Isabella Yuson, Staff Writer
Isabella Yuson is currently a junior at Seattle Prep and is a writer on the school's newspaper The Panther. This is her third year being apart of staff...