The Choir Concert Kicks Off The Most Wonderful Time of The Year
Hang on for a minute...we're trying to find some more stories you might like.
It really is the most wonderful time of the year because the Seattle Prep Christmas concert truly kicked off the holiday season! The choir had been preparing a wonderful mix of holiday tunes to sing aloud since August, and all this hard work really shined through at the Christmas concert on December 4th. Liam McNett '19 shared that he thought the concert went amazing and that him and his friends did a "fantastic job singing."
Although this concert does take place every year, this year's concert was bound to be special with new songs and, of course, lots of holiday spirit. The choir director of 24 years, Huntley Beyer, absolutely loves putting on the Christmas concert and was very excited this year because the choir "sang a piece that had never been sung before," which was a brand-new arrangement of Danny Boy. Mr. Beyer was excited to share with an audience the "special energy and feeling that comes with singing in a group to make something together that is beautiful."
Accompanying the Seattle Prep choir was the pianist Bob Kechley. Kechley and Beyer spent a lot of time creating the new arrangement of the Irish tune, Danny Boy. Mr. Beyer says of this arrangement: "I think it's the best version out there, with its lush harmonies and interesting melodic lines going on at the same time."
Chaz Royer '19 and Liam McNett '19 share that their favorite song that the choir sang this year was that new arrangement of Danny Boy. Ella Hill '19 says that this arrangement is "wonderful" and always gets her "in the holiday spirit."
Many other choir students were also excited about the results of performing some of their favorite songs. Ella Hill '19 shares that her favorite song was a new mash-up that combined "It's Beginning To look Like Christmas" with "Pine Cones and Holly Berries."
Beyer says of this new mash-up, "both are happy tunes with fun lyrics, so when the two tunes are put on top of each other the result is unexpectedly clear and charming." The Christmas concert really was a great way to jump-start everyone's Christmas spirit. This concert was full of impressive solo performances and even the use of a light saber near the end. Hearing all the pieces surely flooded everyone's hearts with Christmas memories, and the choir obviously worked quite hard to learn the many pieces performed well and with spirit. The standing ovation at the end of the concert was truly deserved because this Christmas concert left everyone feeling jolly.

About the Writer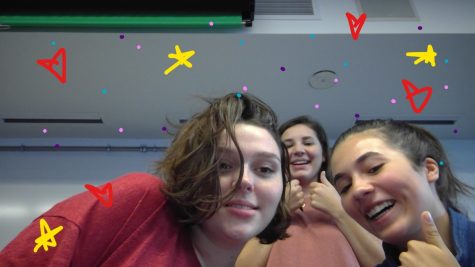 Abby Malzewski, Staff Writer
Abby Malzewski (far right) is a senior at Seattle Prep, and this is her second year on The Panther staff. Abby enjoys being pushed to her limit on runs...