One Actstravaganza
Hang on for a minute...we're trying to find some more stories you might like.
The Spring One Act Festival at Prep is a theater festival showcasing student-directed short plays. For senior participants, One Acts are a great way to close out the year, or try theater at least once before graduation. This year's six shows, four of which are directed by seniors, have a blend of both veterans and rookies.
Ellie Beshlian '17 and Eli Pasco '17 are seasoned pros at directing, having directed one acts since sophomore year. Beshlian's sophomore show, To Kill a Mockingbird, won audience choice two years ago, and last year her show The Perfect Partnership won best actress and best supporting actress. Pasco's Five Characters last year won best director.
This year, Pasco is directing an adaptation of H.G. Wells's War of the Worlds, a radio play that, when aired in 1938, made people believe martians had landed on earth. His show is called We Interrupt this Broadcast. Beshlian's one act, Check Please, focuses on the lighter side of theater, following characters as they dive into the hilarious world of online dating.
Matias Bermudez '17 and George Kent '17 are no rookies either, having directed shows last year. Bermudez's Please Have a Seat won an award for best actor, and Kent and senior Gabe Berger's Planes, Trains, and Automobiles won audience choice. This year Bermudez chose to adapt his script from a film he had made in video production class. He said, "When I was thinking about what I wanted to do for one acts this year, I was out of ideas and thought, hey maybe I can do this video." The show, titled Me Time, promises to be an exciting mystery/thriller.
Kent chose to write his own one act this year, saying, "I was always going to do an original play. I really wanted to try to write this year and see if I could make it as good as all the other ones. Whether that happened or not is debatable. People will just have to come and see." Kent's show, A Remake and a Sequel, "is an attempt at depressing Sci-fi that still manages to be funny. It is also kind of political, with all the stuff about immigration."
Many seniors this year are choosing to act rather than direct. Mimi Jurion '17 and Max Buchanan '17 are making their debut on the Seattle Prep stage this year. On taking to the stage for the first time, Jurion says, "It is great to try something new senior year, and go out with a bang."
Also going out with a bang are longtime theater participants Nate Weiand '17, Al Bernal '17, Asta Wylie '17, Sam Hiatt '17, and directors-turned-actors Sierra Leza '17 and Gabe Berger '17. One of Wylie's favorite theater memories is from her first show at Prep, West Side Story. She said, "Opening night we had so much adrenaline, and during the song "Cool," a junior Nick McCarthy had to throw me up in the air and catch me, but that night he threw me up too high and caught me around my calves, and it was almost really bad."
Junior directors Kelsey Bulger and Addison Co aren't to be discounted. Co is directing a unique one-act film to be played on Friday evening. Bulger, last year's winner of the judges' choice award, departed from the dramatic (kind of) in her show The Play that Goes Wrong. Be sure not to miss any of these outstanding shows.

About the Writer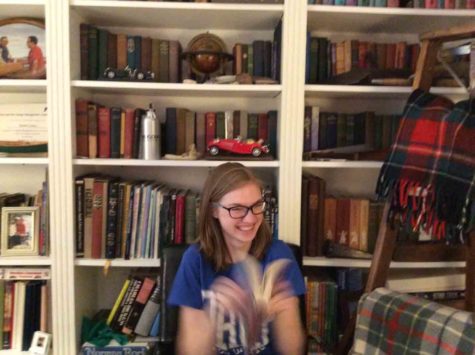 Emma Cooney, Editor in Chief
Emma Cooney (Editor-in-Chief) is super excited to be on staff for her senior year at Seattle Prep. Besides sleeping, she enjoys taking long pensive walks...