Prepsters Qualify for Washington State Thespian Festival
Hang on for a minute...we're trying to find some more stories you might like.
Shhhhhh. Be quiet, the show is about to start! Conversations turn to a whisper, the house lights slowly dim, and the silhouette of the audience starts appear. All eyes stare straight to the curtain. It makes a creaking noise as it slowly inches across the edge of the stage. Then, the spotlight shines and reveals two actors ready to put on a spectacular performance.
Every year, the Washington State Thespians hold a State Festival for theatre students all around the state. They host workshops and competitions for actors and actresses to participate in. This year, two Seattle Prep students, Eli Pasco '17 and Emma Cooney '18, have qualified to perform there.
"It was pretty surprising," Pasco responded when asked about their qualification. "We felt pretty good at the regional competition. But considering that neither of us had participated in a competition like this before, we were both really pleased."
Cooney felt very scared but excited at the same time: "Sometimes theatre just seems like an excuse to make myself nervous. It is so much pressure and I'm scared that I have to get worried about it again. But its really cool as well."
The duo will be re-enacting a "highly edited version" of a scene from the 1971 play "Plaza Suite" by Neil Simon. Set in the depths of New York City at the Plaza Hotel, the play follows the wild stories of three couples who all happen to stay in Suite 719.
The play was recommended by Mr. Othman. "It was quirky and we were both quirky, humorous actors," said Pasco. "So, it was just the best fit."
Pasco and Cooney will be playing Roy and Norma Hubley. The characters' daughter has locked herself in the bathroom out of the fear of getting married and the two engage in an argument attempting to get her out.
Going to festival will be a very exciting experience for the two."I just love the vibe," states Cooney. "…it's a bunch kids who have really big dreams for the future or are willing to be big and extreme." Pasco expresses that he is "looking forward to performing with Emma again because that is a really fun scene to do and participate in lots of workshops and the other people's shows."
These two talented actors have a big passion for what they do. Pasco and Cooney love acting because it can tell a story and it is a place that lets you have a one of a kind experience. "When you develop a character, you are not only looking at how you can connect with it and expressing your personal emotions and how you would react, but you are also kind of getting a different perspective on how this character would react" remarks Pasco. Cooney claims that, "You can waltz around in a giant ball gown, fly, you can be a guy if you're a girl and a girl if you're a guy, you can go back in time and go forward in time, and be people you aren't and there is no other way you can do it like you can in theatre."
Eli Pasco '17 and Emma Cooney '18 will be performing at the State Festival from March 16-18 in Ellensburg. To learn more about this event and other events, go to washingtonstatethespians.com.
About the Writer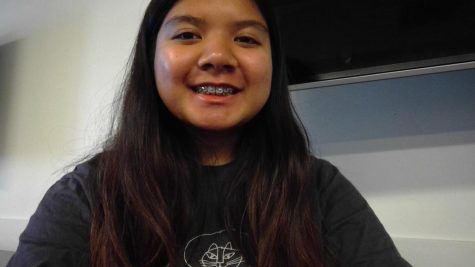 Isabella Yuson, Staff Writer
Isabella Yuson is currently a junior at Seattle Prep and is a writer on the school's newspaper The Panther. This is her third year being apart of staff...