Derek Mourad and the Ultimate Commitment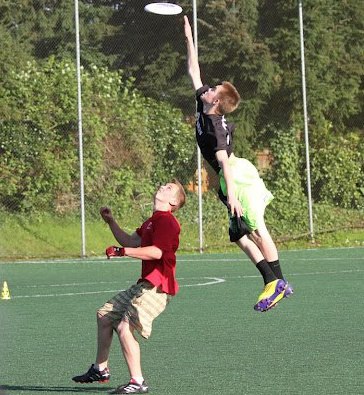 October 25, 2013
Filed under Sports
Hang on for a minute...we're trying to find some more stories you might like.
By: Brian Bowers '16
The Prep community is always hearing about prep athletes that lead their teams to victory, but there are many athletes at prep who do not get the recognition they deserve because they play sports outside the prep community.  One such athlete is Derek Mourad.  Although Derek has played football, soccer, and basketball through Prep, he considers Ultimate Frisbee to be his main sport.
As a child, Mourad loved throwing a Frisbee around with his dad however, he did not start playing competitively until 4th grade when his middle school, Seattle Country Day School (SCDS), formed a team. Mourad led Seattle Country Day to Ultimate Frisbee championships in 6th and 8th grade. From there, Mourad has moved on to more intense levels of Ultimate Frisbee participating in U-16 open divisions and youth national tournaments. Mourad is currently playing for both Nathan Hale's varsity team, and a club team called Seattle Dynasty. "Many people think of Ultimate Frisbee as more of a joke, but it is a big commitment" says Mourad.
Mourad has practice every day after school and has to bus all the way to Nathan Hale to get there. Although playing a sport through another school can be annoying, Mourad looks at it as a way to meet new people from other schools while doing what he loves. When asked if Ultimate Frisbee helps him cross train for any other sports, he flipped the question around saying "I would look at it the other way, being a goalie in soccer has helped me with laying out to make catches, and football helped me get tougher around defenders."
Mourad's favorite moment from his Ultimate career was when his team the Seattle Dynasty defeated the NC Hammers, a team from North Carolina, in the YCC championship game 12-9.
Ultimate Frisbee is a lot more complicated than one would think; there are many different positions, formations and strategies that are at play. There are two main positions, cutter and handler, a cutter is usually fast and has good hands, while a handler is good at weaving passes through defenders to the cutters. Mourad is a premiere cutter on his team because of the cross-training he has gotten through football, basketball and soccer that give him the speed to burn defenders, and the hops to sky over defenders, and come down with the disc.
However, Mourad does not just play Ultimate Frisbee, he is always following his favorite professional teams and players. His favorite pro Ultimate team is the Seattle Rainmakers, and his favorite club level team is the Seattle Sockeye. Mourad has many role models that he looks up to in professional Ultimate Frisbee. He wears number 1 after Donnie Clark who was a track star for UW and is one of the fastest players in the game today. He also looks up to his Seattle Dynasty coach Reid Koss who he likens his style of play to. "However, I'd have to say my favorite player is Beau Kettredge, a 6'5″ cutter from San Francisco who ran a 4.40 40 yard dash and almost signed with the San Francisco 49ers," says Mourad.