Diversity Clubs: A Sanctuary for Students
Hang on for a minute...we're trying to find some more stories you might like.
"I think that it's important to recognize that there are minorities. When they get together and talk about certain struggles that they have, they can find safety within their own community."
Those were the wise words of LatinX Co-President Marc Ribas '19. Navigating life as a high schooler through a sea of people who come from different backgrounds can sure be tough. But to help students transition into the community, The Diversity clubs at Prep strive to make all students feel welcome, especially those who identify as minorities. All LatinX, Black Student Union (BSU), and Asian American Association (AAA) provide a safe and comfortable space for students to connect with others who share similar stories and for students to get to know a culture better. Led by knowledgeable and respectable representatives on the Diversity Council, student members and leaders alike work to make Prep one inclusive community for all students, regardless of their background.
Meeting once every two weeks, each club meeting consists of food, fun, and friends. At meetings, "Normally, the leaders always try to bring a treat or food to share, such as where we started off the school year with a Build Your Own Taco conveyor belt. We also plan to organize fundraisers that involve the LatinX community. We also have guest speakers and do fun activities that involve the school, only happening twice a semester like cake walks, tasting tables… things like that," says Ribas. BSU member Doyin Best '20 shares, "In BSU, we talk about important topics that are going on in the Black Community and worldwide overall. We have guest speakers and we try to bring in food while discussing world problems, what we can do to stop it and help people to realize that these are bad things going on." For AAA, "We do a lot of talking on issues relating to mostly Asians, so things like affirmative action… We usually bring food, watch movies, fundraisers… we also have our own shirts!" adds AAA Treasurer Jacob Le '19.
The Diversity Clubs also hold several events outside of meetings during the school year. "We love just giving other people an opportunity to see our cultures, whether through taste or through art," says Ribas. LatinX has held tasting tables, a guac-off, and art events throughout the years. For Le, his experience started three years ago. "My freshman year I went to the AAA summit, so that's every three years. That year it was a Prep, and a lot of it was meeting with other people from other states and connecting on the fact that we're Asian," he adds.
While having fun during meetings and with fellow students is important, recognizing the importance of diversity in all aspects of life is important as well. "This is pretty important because since people like me are not white, who have to be surrounded by people of that race at this school, it's nice to be able to go to people who you can relate to who have gone through the same struggles," says Best. Le says that diversity is important because "it brings a new perspective on things. It helps you to connect with others, and I think that that is useful in everyday life especially in the increasingly diverse America." For Ribas, he adds that "What's beautiful about diversity is that even if you're more accustomed to one culture, you get to be able to experience someone else's culture through them. As far as clubs here, I think that it's important to recognize that there are minorities. Even in a diverse community, it's good to always find commonality. It's something that's very hard to do and it's something that we're still working on in society today."
To students who feel a little hesitant to go to meetings, these representatives say that there's nothing to be afraid of! "Honestly, just go. It's not anything scary, it's just a place to go enjoy good food or treats and just talk, and maybe do something good for the community. Help us fundraise or generate ideas for the club… everyone brings something unique to the table and we value everyone's ideas," says Ribas. "It's once every two weeks at lunch, so it's not a big commitment at all. We just ask that you bring an open mind and you should be fine!" For Doyin, she says that for BSU, "It's very open and it's a way for you to speak about what you've been through because there are so many people that can relate. It's not that bad either, it's just for 30 minutes of your time." If you're afraid to go to a meeting, "Everyone's pretty friendly there, and you get free food," says Le.
Each club meets in Ignatius every other week. It's every other Monday for LatinX, every other Tuesday for AAA, and every other Thursday for BSU.
So, if you're looking for a safe place to connect, share a meal and learn about the diversity of life, LatinX, BSU, and AAA are the places for you!

About the Writer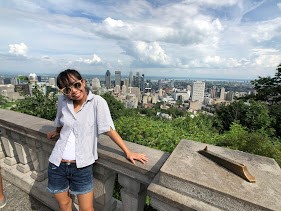 Tia Flores, Staff Writer
Tia Flores is a 5' 1" sophomore at Seattle Prep who is looking forward to another great year on the Panther staff! She is currently on the Prep swim...