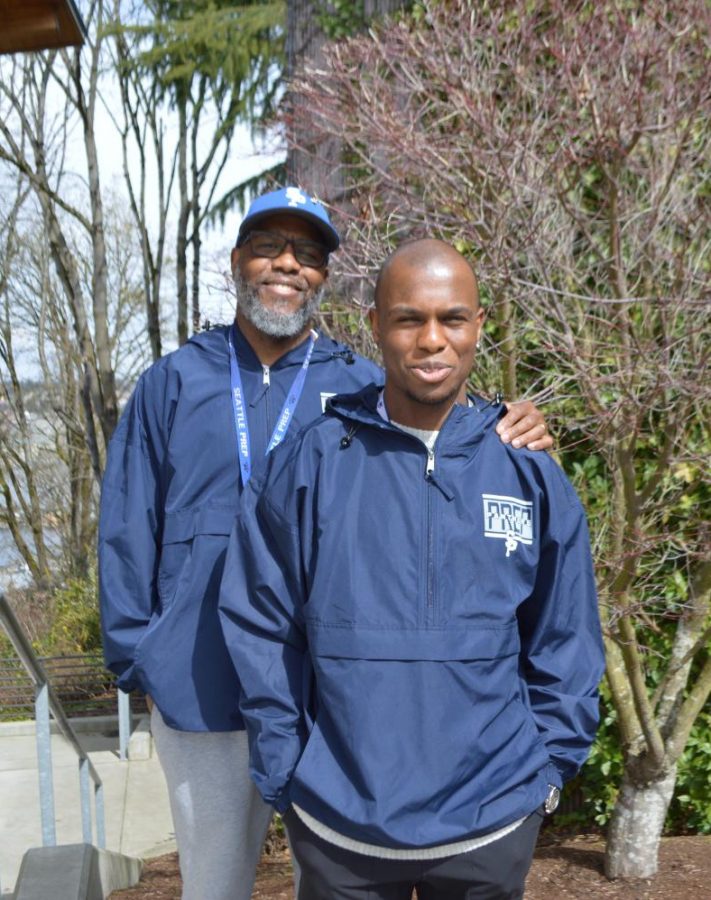 Seattle Prep's two favorite Panthers have been running the school in iconic memory, Mr. Chism, and his son Seth Chism, who came back after graduating in 2016.
Seth Chism is an Alumni Service Corps member and helps in classrooms as a moderator or just being a friend to the students at Seattle Prep.  His father, Mr. Chism, well loved by students and faculty, introduced the position to his son, and Seth jumped at the opportunity.  Seth came to Prep to follow in his dad's footsteps.  He looks up to his father in "the way he carries himself and how kind he is to others."
Mr. Chism works as the Director of Campus Security and in the Communication Department.  He is known and loved for being extremely friendly to students, creating long-lasting, genuine relationships through practical conversations on an (almost) daily basis.  He is a role model to everyone, but especially to his son.  As a parent, Mr. Chism explains that he tries to "set a good example and be better every day" so that his son can learn from him yet do his own thing in life.
Having his son on campus is so cool, yet short-lived, and he wished he had more time with him.  Mr. Chism sees his son working and communicating with students, and "instead of asking for permission from me, he asks for advice," making his father proud.
The two men have a great relationship and enjoy each other's company.  Seth says that as he has grown up, he has been able to have more meaningful conversations with his dad, rather than just "I'm your dad, you're my son," like common advice.  They share their love of sports and, as a family, watched the Michael Jordan documentary that came out this summer, of course with their Jordan's on!  They also plan to do family March Madness brackets, to keep the family competition alive.
Often, when they see each other in the halls they will "make eye contact and just start laughing randomly, like telepathy."  During the first semester Seth explains that the two of them, "would have lunch every single day and I'm kinda sad we don't get to do that as much anymore."
Mr. Chism explains that having his son at Prep is the "beginning of the end, and I may never have this opportunity again."  He feels so strongly that "if he wasn't my son, I'd want him to be."
Seth also can't contain his wholehearted love for his father, as he says, "If I can get to his level some day as a dad, that would be hype."
For Seattle Prep's luck of snagging such an amazing duo, the love is sure felt by students, faculty, and each community that is impacted by these two, hopefully for a long time to come.