Conaty Takes Talents to Pullman
Hang on for a minute...we're trying to find some more stories you might like.
Prep is full of notable athletes, but Emma Conaty of the Seattle Prep Girls Rowing Team is one that will be especially missed next year. Her interest in the sport was originally sparked by reading The Boys in the Boat and luckily that was the same year that Prep started their crew team. It was the spring of her sophomore when she joined the team in 2016 and has been hooked on the sport ever since.
Next year she will be headed off to Washington States University to study Viticulture and Enology or Organic Agricultural Systems, but she will also be rowing for their crew team. She was drawn to Washington State University because of their Agricultural programs, but when she discovered that they also had a Division 1 crew team the school seemed even more appealing.
Since the beginning of the recruitment process she has been in contact with team coaches, Jane LaRiviere and Karl Huhta, as well as gotten to know some members of the team.
Conaty is excited to compete on a new team in new competitions, but she will also miss her time on the Prep Crew team. She said "I will miss being the oldest on the team. I will miss my coach Tom and of course all of my teammates. I am realizing that this is my last time I have to row with my sister Maeve '20. I also will miss, as weird as it sounds, the boy's half of the team. Because WSU only has a club team for men, I won't be seeing any guys who row."
She has had quite an impressive career rowing for Prep with some of her biggest accomplishments including placing 3rd at US Rowing Junior Regionals and 11th at US Rowing Junior Nationals both in the Open Weight Varsity Women's Single. Her time on the team has been full of good memories too. She said that "last spring season we were doing suspension drills. I went up to the catch and flipped right into Lake Union! In my single I have flipped countless times, but so far this year I haven't flipped at all! Knock on wood!"
She also recalls that, "every morning practice is both a blessing and a curse. I would rather not get out of bed at 4:15, but watching the sun rise and working hard to get faster make it worth it."
Emma Conaty has been a crucial member of the Seattle Prep Crew team for three years now. Her talents will be missed, but she will always be remembered as one of the original members of the Prep crew team.

About the Writer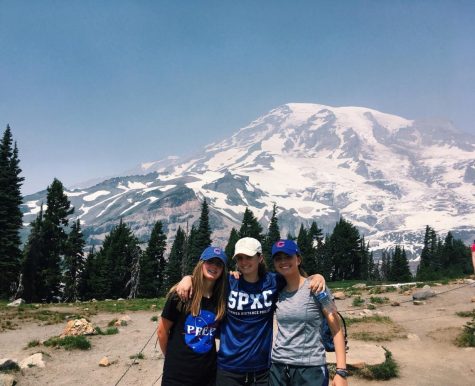 Allison Kearney, Staff Writer
Allison Kearney is a junior at Seattle Prep and has been part of The Panther as a staff writer since her freshman year. Allison still runs cross country...