Queer Eye Unites Communities Through Makeovers
Hang on for a minute...we're trying to find some more stories you might like.
No matter political standing, religious views, or personal beliefs, nothing can beat the wholesome nature of Queer Eye. The original show features five gay men, known officially as the "Fab 5", as they give makeovers to straight men across New York City in their style, lifestyle choices, décor, and more. The show first aired on July 15, 2003 on Bravo and was an instant hit, garnering high ratings and making the fab five quick to be celebrities in the spotlight, giving a face to the LGBTQ+ community. The show continued to air on Bravo up until the final episode on October 30, 2007, bringing an end to the original Queer Eye. However, in a time when it was needed most, Queer Eye returned in a reboot of the series on Netflix this February, bringing back fabulous makeovers and with it, a reminder of our own common humanity.
In the original show, David Collins, the executive producer, had his goal set on easing the discomfort straight men generally have towards gay men and allowing them to see beyond the sexual orientation and form genuine connections. On top of this, the show was to provide an example of powerful members of the LGBTQ+ community being represented as simply humans, which chips away at enforced stereotypes and allow for tolerance. But with the reboot, the expectations are much grander.
 As Tan France, the design expert, says in the introductory clip for the reboot, "The original show was about fighting for tolerance, our fight is for acceptance."
In a time where the national GLAAD (Gay and Lesbian Alliance Against Defamation) reports are listing discrimination against LGBTQ+ people as on the rise and intense polarization between people opposing viewpoints is incredibly prevalent, this reboot could not have been more needed. The show is uniting normally clashing demographics, straight men in the South (as the reboot takes place in Atlanta), and gay men, and allowing for clear and honest discussion about the issues that normally cause a vicious divide between the two, while keeping the connection lighthearted and real. In episode three, the Fab 5 makeover a Trump-supporting police officer named Cory, in which they have a constructive conversation on topics such as police brutality and Black Lives Matter while remaining friendly throughout the whole episode. They begin to see the individual, not the label, and act accordingly.
While one television show will not bring an abrupt end to violent divisions within our country or bring complete and total equality and acceptance for all, the hope is that it will facilitate and encourage conversations that have long been ignored, while retaining a mutual respect for the other individual and recognizing that they too are simply human. It is through these conversations that the acceptance will come. But for now, Queer Eye is fighting for these wholesome connections and for the inclusion of all, one makeover at a time.

About the Writer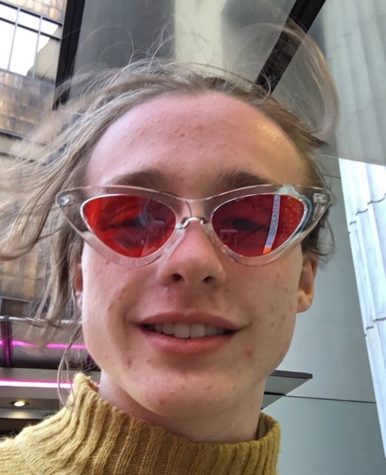 Joe Robinson, Social Media Editor
Joe Robinson is this year's first, only, and best Social Media Editor (he still doesn't really know what the position entails), and a Junior starting his third year on newspaper. When he's not in the flex room working on newspaper, he's off volunteering at The Vera Project, blasting the Rocky Horror Picture Show soundtrack, working on photography, or just taking a nap. He has six siblings, one of which is Tom Robinson, a fellow Junior at Prep and his supposedly identical twin. Fun facts to fill the space: He hails from Swedish royalty, used to be horribly afraid of buttons, is a proud lefty, and he is super excited for the Journalism year ahead!