Girls Bowling Team Rolls Into a Second Season
Hang on for a minute...we're trying to find some more stories you might like.
Strike! Girls Bowling began in early November and with a year of experience they are ready for a great season.
Last year's coach, Mike Massoth, who also doubles as a boy's baseball coach, has come back again to lead the girls team. They practice at West Seattle Bowl and compete at bowling alleys all over, even going as far as Anacortes.
Bowling is a popular birthday party or rather infrequent sport and many of the rules are often overlooked. Each game consists of ten frames and each frame the bowler gets two chances to knock down as many of the ten pins as they can. If the bowler can knock down all the pins on the first try it is called a strike, if they can get them all down in two tries it is called a spare. At the matches there are no guard rails so gutter balls count. Also, if a player passes the foul line any pins knocked down on that delivery will not count.
There is a great team atmosphere on the girls bowling team and it is truly on big happy family. Laurel Gary '19 said, "my favorite part of being on the team is the girls I bowl with because they make every practice and match fun and I also love the bowling alley fries". Leila Norton said she love the team because they "have great coaches" as well as "a supportive and fun team". Helen Simmons, the youngest member of the team said "I was worried about being with the upper classmen but they are super sweet and didn't make me feel out of place at all".
Bowling is not all fun and games though, they get down to business. The matches are intense and can be upwards of two hours long. Five Prep bowlers compete against five bowlers from the other team by playing two games of ten frames. One member of the team, Addie Weiss '19, described the matches as "intimidating".
In order to prepare for the high intensity matches the bowling team has been working very hard this year to meet their opponents head on. The team practices five days a week at West Seattle Bowl as well as has classroom days to talk bowling strategy and bowling form.
The girls bowling team this year is an awesome group of people who hope to pull out a winning season now that they have a year of experience under their belt.

About the Writer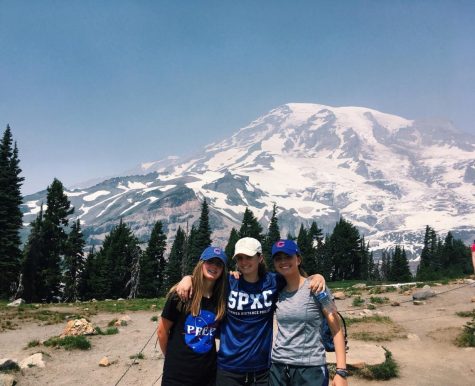 Allison Kearney, Staff Writer
Allison Kearney is a junior at Seattle Prep and has been part of The Panther as a staff writer since her freshman year. Allison still runs cross country...