Sophomores Share Advice to Survive Freshman Year
Freshmen year. The newbies, the frosh, the people that crowd the doorways of the school. The first year at any new school is always a challenging adjustment, so here is some advice from sophomores who survived last year.
School is officially back in session. The hype of seeing the people in your grade all together and the warm weather is gone, sadly. But that means it is time to get down to the nitty gritty and start focusing on the school year. Of course, this year, things are different. New year, new grade, new things to look out for. Don't let that spark any anxiety, because upperclassmen are here to the rescue. With a new school year comes anxiety and stress about the challenges to come. So, here are some tricks and tips to get through this year:
As the leaves turn brown and the air icy cold, eating outside is no longer an option. Finding a different place for lunch can be scary, but not to worry, Charlie Pehl '22 advised freshman to eat lunch in the cafeteria or commons.
The PWOP, 'the paper without paper', the first big project of your high school career. No need to freak out. PWOP survivor Jayce Woodward '22, said "The PWOP is not really stressful because the teachers and librarians are so helpful which makes it a lot easier."
In the dead of winter, you come back from break, you have finals, and then nothing to look forward to; Wrong! Its retreat time! The Freshman Retreat is widely known as a time to meet new people and grow closer as a community. According to Katie Kraft '22, "You're often split up from your friends, but you become super close with the people in your group."
Lastly, here are some BIG tips to take into consideration on how to survive your freshman year:
Branching out and meeting new people can be scary, but as many of the upperclassman have stated, it can make a big difference in your high school experience. Pehl '22 said that his biggest tip to freshman "is to really put yourself out there socially and to talk to everybody."
Although freshman year is a big change, Heide Orleth '22 pointed out one of the many positives of starting at a new school, "You have a chance to start fresh, make new friends, and have a chance to express yourself more than what you were able to do in middle school."
And finally, Annabelle Deasy '22 advised all freshman to simply "Have fun and don't stress too much. Get involved in as much as you want and find things that interest you." High school should be a fun experience, so be yourself and just have fun. Four years goes by really fast, so make the most of your time at Seattle Prep and don't sweat the small stuff.
About the Writer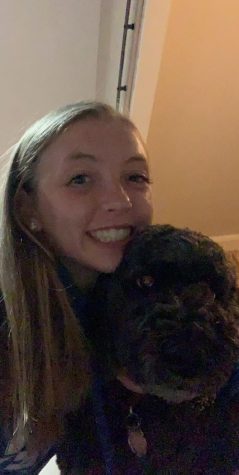 Olivia Manning, Staff Writer
Hi, my name is Olivia Manning and I am a senior here at Seattle Prep. I was freelance writer for the newspaper sophomore year and I am excited for my second...