Students Travel Abroad and Locally For Christmas Break
Finally, it is Christmas break, the longest most wonderful break of the year which makes it perfect for many Seattle Prep students to make big plans to travel, even to places out of the country! Not only is this a great time for travels, but it is also a great time for staying home, decorating the tree, and chilling by the fireplace. Either way, this Christmas break is filled with holiday spirit and fun whether going big or staying home.
 Freshman Flore Bindel is traveling all the way to France this break. Bindel's family is French, and all her relatives live there. She is traveling to France because it is one of the few times in the year she has enough time to see her relatives, and she has grown up with French culture. In addition, returning to her second home is important to her family. She says, "Going to France will be my favorite part of this Christmas break as I will get to visit relatives and spend quality time with some I don't get to see often. France is a very special part of my life as it is part of my origins and I have spent countless memories there that will always be significant to me".
Another Prep student traveling out of the country this Christmas break is sophomore Kate Allen. She and her family will be making the journey all the way to the land down under, that's right, Australia! Allen says that her family loves to travel to places with adventures and beaches which makes Australia the perfect holiday destination. On Christmas and Christmas Eve, "my family is going to walk across the Sydney bridge at sunset. On Christmas, my family is going to Bondi Beach in Sydney Australia to have a typical Australian Christmas. The tradition is to pack a picnic and have it at the beach. We are also going to swim in the iceberg pools that are pools basically in the oceans".
Some may wonder if traveling makes Christmas seem less special, or not as focused on the true meaning of Christmas, but according to Allen, "Traveling to Australia will make Christmas more exciting for me because it is a really exciting experience and I will get to spend a lot of time with my family which is what the holidays are about".
Although vacations are awesome, staycations can be just as great. Sophomore Gracyn Brunette's favorite staycation activities are baking and matching pajamas with the family. She says, "Staycations are the best because you decorate the tree and the house, put up the lights, are in the comfort of your own home with your family, listen to music, and are solely in the Christmas spirit, not distracted from what Christmas is all about".
Whether traveling out of the country or staying local, Seattle Prep students are sure to have an epic Christmas break.
About the Writer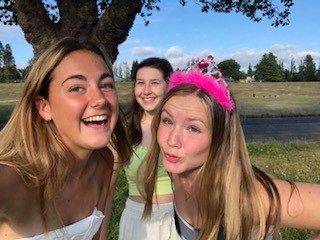 Caroline Casey, Staff Writer
Caroline Casey is a senior at Seattle Prep and she is so excited for her third and final year on the Panther staff! She loves playing soccer, swimming,...